---
Thorsten Brinkmann
Frankfurt
Thorsten Brinkmann is the main component of his photographed sculptures. The Hamburg-based artist mainly uses his own body as an anonymous basis. His works hint at Old Master traditions of portraiture and still life with the slightly difference that they are faceless and stylized with thrift shops items. With humor and aestheticism, his oeuvre introduces everyday objects into the art spectrum. Brinkmann merges tradition and contemporaneity.
Brinkmann's pieces for Me, a group exhibition currently running at Schirn, are quite uncommon for his style. No flamboyant colors or vintage closing. Yet he stays faceless and anonymous, his upper body covered by a cardboard carton. The depiction of the self is rough and unpolished always keeping up mysteries about the covered parts – in this case: the content underneath the box.
On the occasion of ME, we sat down with Thorsten Brinkmann to talk about his art.
Wertical: You have a gift to make the dismissed and disguised gain center stage. What is first, the object or the idea of the complete picture?
Thorsten Brinkmann: Actually, both runs simultaneously. There are ideas that I am working with but I keep on rejecting them during the process when I come across something new and more interesting. I am often actively searching for objects while coming across something else that I haven't even thought of and are evening inspiring new ideas. That's how I work on pictures and sculptures too. I start with one thing, and go on with the next. It's a very playful process. I am basically trying to find the right image or sculpture.
W: How do you find your objects? Do you visit flea markets with a purpose or do you just react if you see something by chance that fits your concepts?
TB: I have some several sources: flea markets, the streets, containers, friends' places or suburb bulk trash. But the main source is indeed one very particular flea market in Hamburg. Dealers there sell bulk trash that they have collected in the suburbs. At about 1 pm everything that is left is given away – this is when it get's interesting for me. I let myself get surprised by what is there. It is always more difficult to look for something particular than checking out what's available. This is also how I often find things that match an idea, I have had in mind a long time before. It is always best to have some loose ideas and stay open-minded to everything that shows off.
W: What is your secret to create such strong self-portraits while keeping them faceless?
TB: Exactly this: not to show what it is actually all about – in the case of a self-portrait, the face. This is what makes it all exciting. And it opens up many ways for interpretation. We are trained to see a face between or on top of shoulders. This is why we see things differently when positioned between or on top of shoulders; they almost become masks. With covering the face, the figures also become more universal. I become depersonalized while my pictures work like a projection surface for the spectator. This way, it's easier for the spectator to adapt my body. They are linked to terror SM, corruption to Voodoo. At the same time, this technique allows to depict different characters in a very easy way. It's also like the things were really looking at you. It is a hide-and-seek game. The figure shows by hiding.
W: Your portraits can only be read through the posture and the objects that surround the body. Are you questioning if material belongings are essence of the century we are living in?
TB: There is nothing that we produce more than garbage. Despite every virtuality, there are more and more objects today than every before. And at the same time, we throw away more than ever. Objects define identity. Our culture is informed by objects and thus what belongs to us is of great importance. In a way, we form them while they form us too. So they are a part of ourselves. I create characters dealing with the situation in a playful way feeding itself and creating an own royal parodistic world.
W: Why do you show animal but hide humans?
TB: Because I never had any interest to be part of my own artworks. I am not sure about my dog. He was always runs into the picture while I am working and he has expressed it so far.
W: Are the great Dutch masters a conscious or unconscious part of your compositions?
TB: Yes, I consciously make this reference; not only to the Dutch Old Masters. For me, the whole history of art is very interesting, the Renaissance era interests me a lot. I borrow lots of postures, color combinations or light situations from there. It is kind of a code that I try to work with. People could maybe also see Aby M. Warburg's pathos formula in my work. So there are also Surrealists to Dadaist and Monty Python influences.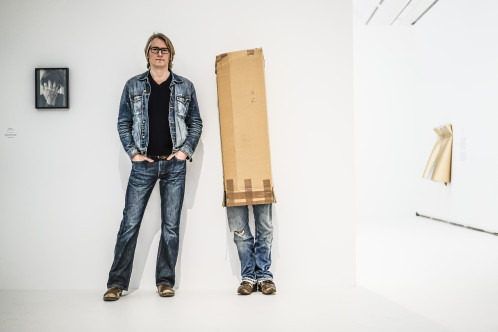 Thorsten Brinkmann neben seiner Skulptur Brinkann (2006), 

In der Ausstellung "ICH", Schirn Kunst Frankfurt, 2016 © Foto: Norbert Miguletz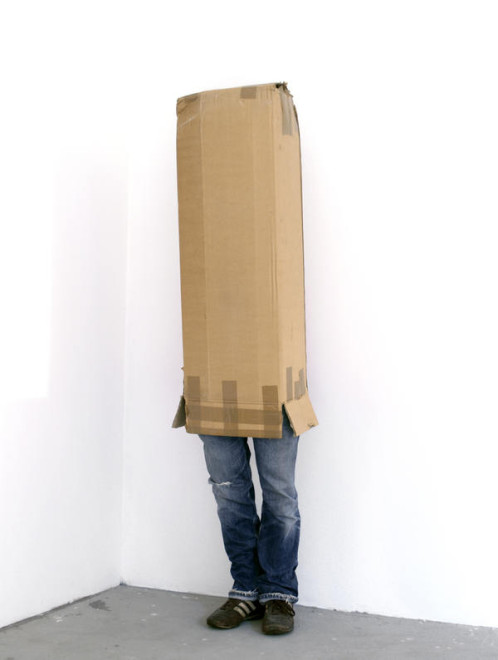 Thorsten Brinkmann, Brinkmann, 2006, Karton, Sneaker, Plastikbeine und Jeans des Künstlers, 193 x 40 x 34 cm, Courtesy Teutloff Museum e.V. Foto: Thorsten Brinkmann © VG Bild-Kunst, Bonn 2016
Römer­berg
60311 Frank­furt
Germany
---