---
Andy Kehoe
New York City
Known for human-animal hybrid figures set in forested backgrounds, Andy Kehoe's recent works have evolved to include a new technique of painting his distinct imagery in oil and acrylic on multiple layers of resin. Incorporating this new medium has added illusions of shadow and dimension, altering spatial relationships from background to foreground and expanding the level of depth between subjects and their surrounding environment.
In his current exhibition Luminous Reverie, Kehoe introduces another new aspect to his process by adding elements sculpted with polymer clay—placing antlers, trees and other details within layers of poured resin and paint. This marks the first time the artist's work will contain three-dimensional objects submerged within the flat surface of his two-dimensional tableaus. In one piece, painted shards of broken glass resemble an erupting volcano. Other scenes portray a moon-like island suspended in the sky and a giant gnarled tree possessing a gateway to an alternate dimension. In Kehoe's words, "I've always loved creating little worlds within my work. One of my favorite aspects of these resin boxes is that they contain an almost tangible version of these enclosed little worlds of mine."
The show title Luminous Reverie, alludes to the idea of experiencing clarity of vision when lost in a daydream. It is also a reference to the radiant use of light throughout the imagery. There is a heightened ethereal quality to this body of work. Many of the figures are silhouetted, glowing and ghost-like or darkened, cast in shadow. Marbleized textures in the night skies are punctuated with stars and celestial bodies. Clouds, fogs and mists lend a sense of mystery to the atmosphere. Overall, the narratives have become more abstract, capturing moments in time as poetic fragments rather than full stories. Loaded with a greater sense of drama and emotion, the fantastical scenarios are pushed beyond the bounds of fantasy into a looser realm of the unimagined rather than the imagined.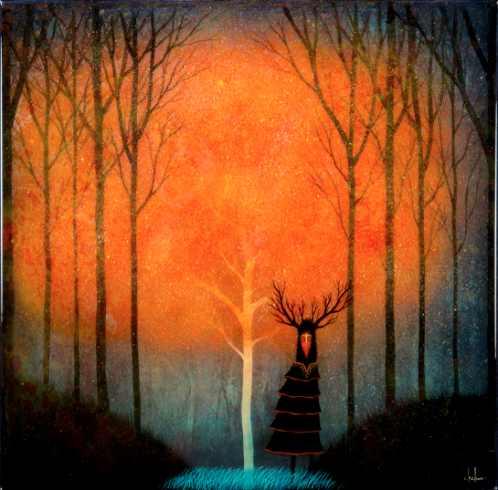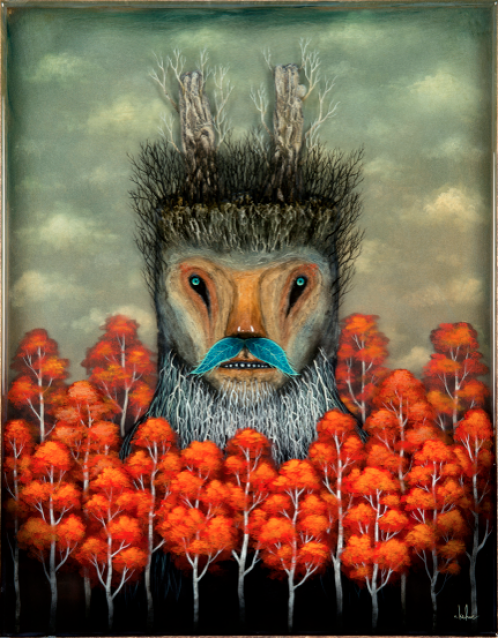 May 18 – June 15, 2013
529 West 20th Street, 9th floor
New York, NY 10011
USA
---