---
Cristina Llanos
Emerging artist of the week
Spanish artist Cristina Llanos is our Emerging artist of the week. We had the chance to sit down and talk with her about her practice and new series entitled Naturalezas muertas.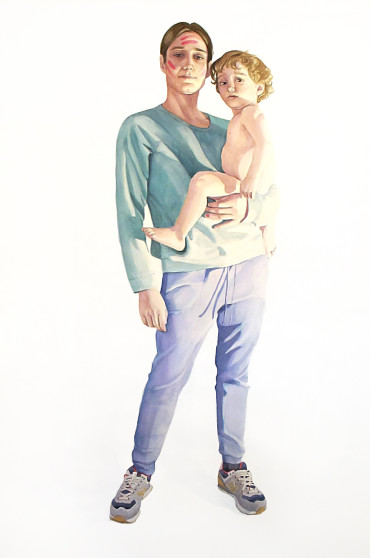 Wertical: How do you describe your art to somebody who has never seen one of your work? Cristina Llanos: My artistic work is mainly based on paper drawing. I use drawing as a tool to transform photographic images into pictorial ideas that I decontextualise in order to allow reinterpretation. I normally work in watercolour because it let me suggest a contrast between the beauty and serenity of this technique and the conceptual hardness of the subject matter. It gives an ironical tone to my work and allows me to play with the spectator who is looking at it. I work in series because I usually become engrossed with specific topics, which I study under a sociologist point of view. I collect images that I find on the Internet and at the same time I photograph the world that surrounds me. This collection of images is my own album, which I constantly use as a reference for my work. I work especially with the concepts of privacy and exhibitionism to reflect on the cultural phenomenon feeling the irrepressible urge to "be visible", the cult of the personal spectacle, the growing fictionalization of reality, and the disappearance of the boundary between public, private and intimate.
WE: Where did you study?
CL: I studied Fine Arts at the Complutense University of Madrid.
WE: What did university and your professors give to you?
CL: My printmaking teacher was the best. He let me use a photocopying machine with total freedom for a whole month. He encourages me to experiment with tools and materials. Another one asked me so many questions about art that I realised I didn't know much about it. It made me look for answers.
WE: What are you currently working on?
CL: A project entitled "Naturalezas muertas". It means means "still life" in English, but if you translate it literally, it means death nature. It is a series of watercolour paintings showing different still life compositions made out of objects that surround me in the little basement I live at. These objects, the way they are located, how they interact with each other, what they represent for me and for others, make a path for the spectator to read the meaning of the image. The delicate technique of the drawing, which is watercolour, and the background, which is always white, contrast with the possible meaning of the image. It makes the interpretation become unclear and provides a certain irony to the project. With the help of the spectator, I am trying to found out what gives meaning to an object and what makes it death or alive.
WE: What are your three artists to watch?
CL: Iiu Susiraja, Pere Llobera and Enrique Marty.
WE: What does your artist career look like in five years?
CL: You never know… I hope that I will continue to have and develop an artistic career.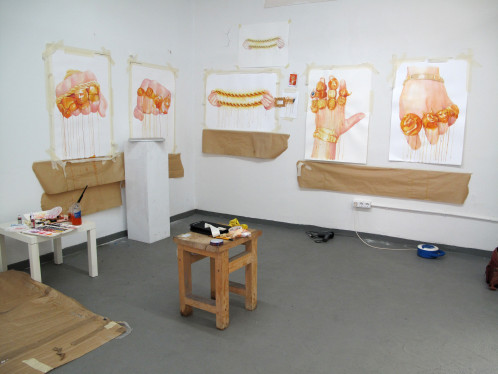 Gold Series. My studio. 2011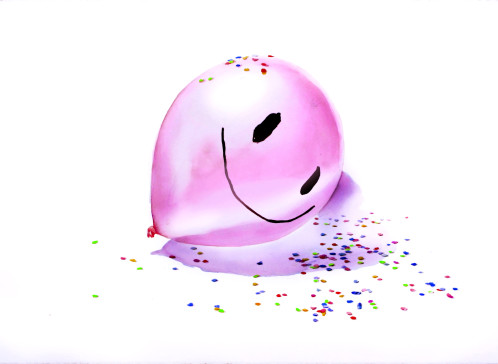 Death Nature II. 2015. Watercolour on paper. 50 x 70 cm
---