---
Edouard Manet
'Le déjeuner sur l'herbe'
Key piece series
Le déjeuner sur l'herbe by Edouard Manet is our Key Piece of the week. We introduce this masterpiece through ten meaningful and surprising facts.
1. Le déjeuner sur l'herbe (Luncheon on the Grass) was painted in 1863 by French artist Edouard Manet.
2. It is a big scale painting that measures 2,08 x 2,64 m (81,9 x 104,5 inches).
3. It was first exhibited under the title Le Bain (The Bath) at the Salon des Refusés in 1863.
4. It deeply chocked the audience as nothing – mythological and allegoric – could justify the naked woman in the center of the piece.
5. It introduces a new way of painting, with less gradation and more brutal contrast between dark and light tones.
6. Manet chose his family as models. The men are his brother and his brother-in-law and the nude woman is a mix in between his wife and one of his favourtie model – Victorine-Louise Meurent.
7. The nude character in the forefront is inspired by The Pastoral Concert by Titian.
8. Le déjeuner sur l'herbe embodies Manet's Impressionism through his rebellious stroke and rejection of rules of proportion.
9. It inspired many artists such as Picasso who painted 26 canvases inspired by Le déjeuner sur l'herbe.
10. In 2009, photographer Rip Hopkins created Cyrille et Le déjeuner sur l'herbe as an homage to the painting, so did Mickalene Thomas in 2010 with her presentation at the MoMA.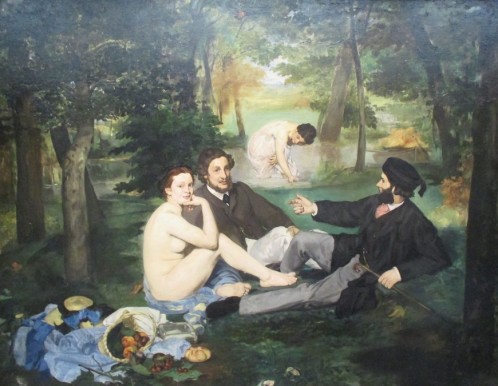 Édouard Manet, Le déjeuner sur l'herbe, 1863, Huile sur toile, 207 × 2651 cm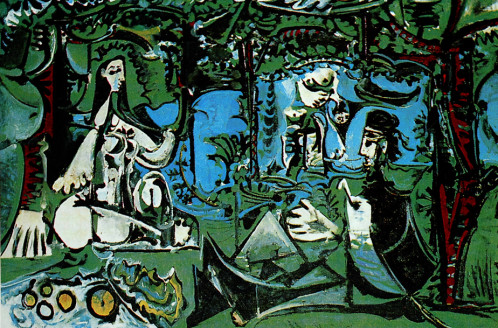 Pablo Picasso, Le déjeuner sur l'herbe, 1960.
---