---
Fashion Shows A/W 2016
New York, London, Berlin, Milan, Paris
The 'Ready to wear autumn/winter 2016′ season has just kicked off with fashion weeks in New York, London, Berlin, Milan and Paris. Although always innovating through their designs, fashion labels also keep on appreciating the timeless. This turns up in their sources of inspiration most significantly. Whether it is evident in the final design or just subliminally noticeable – art often informs fashion by referring to masterpieces, contemporary movements, iconic movies or architecture,…
In London, for example, Alexander McQueen's creative director Sarah Burton presented a Surrealist-inspired collection. The melting clock of Dali invaded coats and dresses while butterflies and horses implemented each print. Thus strongly remembering of the illogical dreams of Breton's movement having dreams as a reservoir for inspiration.
In New York, Delpozo's creative director Josep Font presented a collection full with references to 1927 Sci Fi movie Metropolis. Geometrical and structured dresses, coats and skirts were dressing the models decisively modern yet with a back to the future twist.
In Berlin, Dorothee Schumacher surprised with her Limitless identity collection playing with numerous sources of inspiration and contrasts. In between darkness and lightness, the collection revealed all of Rembrandt's color palette. The flower-inspired prints recall the long history and relation of flowers in art. Hals, Monet, Van Gogh and Warhol have all contributed to the mystification of the symbol. Dorothee Schumacher honored it with her print in nude tons that were underlined with pop colored bright lips.
Berlin being a new hotspot of art, there has been a second fashion show that persuaded with its reference to art: Lala Berlin and her collection Persian Queen goes Berlin. It took place in the exhibition space me Collectors Room Berlin. With a strong artistic focus on the presentation, the collection was all rock and glamorous with Picasso inspired Minotaur prints flirting with optic art fabric.
Gucci's creative director Alessandro Michele's collection featured spray painted pieces by Brooklyn artist Trevor 'Trouble' Andrew. 'REAL', or 'LIFE IS' could therefore be seen on fur coats, bags and baseball jacket decontextualising luxury fashion expectations.
In Paris, Belgium designer Dries Van Noten presented a collection inspired by poet Gabriele D'Annunzio and his muse the Marchesa Casati. The many wild animals prints interpret the eccentric tastes and way of life of the iconic Italien couple.
Once again, this new fashion season proves the cruciality of art in the creative fashion process.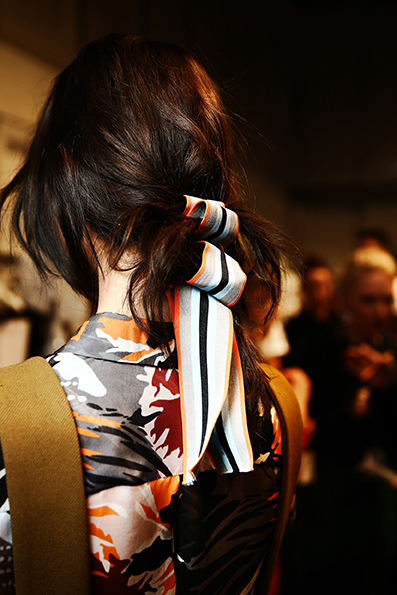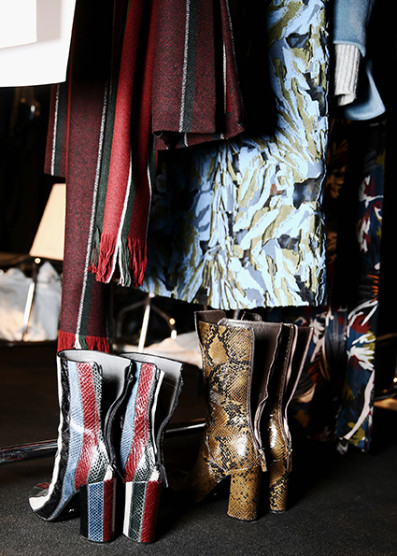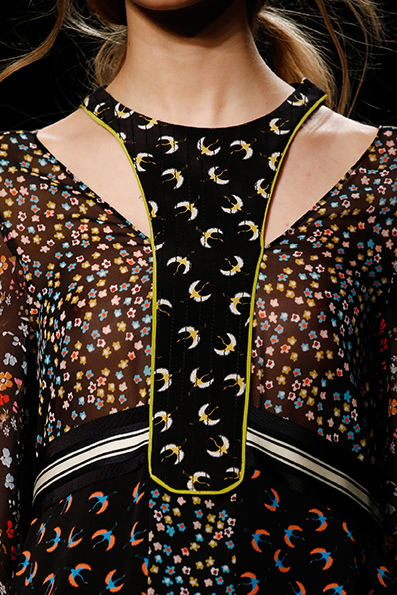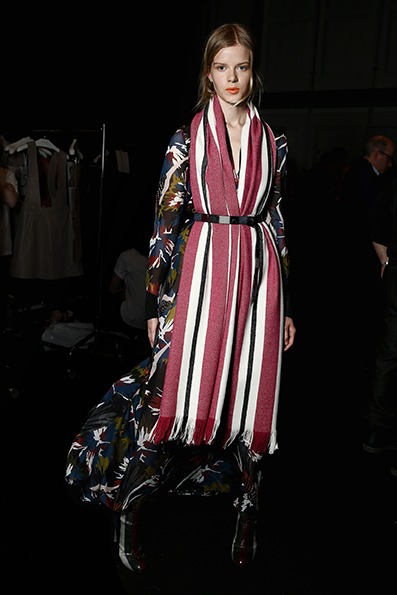 Ready-to-Wear – Autumn 2016, Dorothee Schumacher
---