---
Frank Gehry
'Guggenheim Museum Bilbao'
Key Pieces series
For the first time in our Key Piece series we are taking a close look onto an architectural piece, The Guggenheim Museum Bilbao designed by Canadian-American architect Frank Gehry.
1. It was inaugurated on October 18, 1997.
2. It is one of the several museums belonging to the Solomon R.Guggenheim Foundation designed by Frank Gehry. The other ones are Guggenheim Museum New York, Guggenheim Museum Venice and the upcoming Guggenheim Museum Abu Dhabi.
3. The museum counts no flat surface and is constituted of interconnected buildings that altogether suggest a gigantic work of abstract sculpture.
4. The construction of the museum summed up to US$89 million.
5. It develops its interconnecting shapes of stone, glass and titanium on a 32,500 square meter site.
6. The World Architecture Survey appointed the building as one of the most important completed since 1980.
7. The Guggenheim Museum Bilbao hosts four to six exhibitions a year mainly focusing on contemporary art with installations from Jenny Holzer, Louise Bourgeois's Spider and Jeff Koons' Puppy.
8. The museum inspired the so-called 'Bilbao effect' that refers to how a museum transformed a city and becomes its most significant symbol.
9. The Guggenheim Museum Bilbao significantly boosted the economy of the little Basque city.
10. The building was featured in the 1999 James Bond film The World Is Not Enough as well as in Mariah Carey's music video Sweetheart.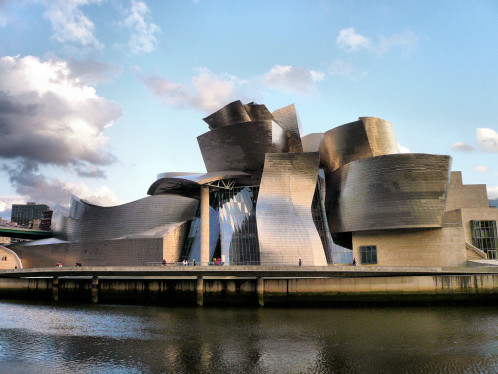 Frank Gehry, Guggenheim Museum Bilabo, 1997.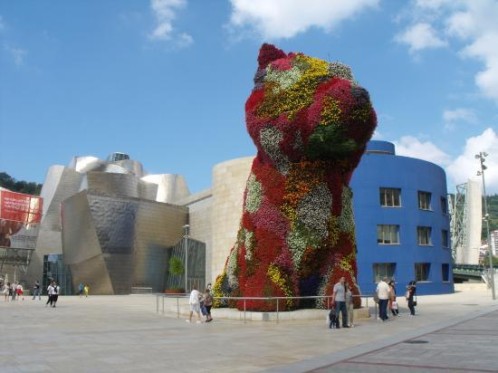 Jeff Koons, Puppy, in front of the Guggenheim museum, Bilbao.
---