---
Georgia O'Keeffe
London
The Tate Modern is currently showcasing an exhibition featuring Georgia O'Keeffe, one of the greatest painters of the twentieth century. The American artist marked the art landscape with her paintings of magnified flowers, animal skulls and New Mexico desert landscapes. Selected works of each field will be on display for her first retrospective outside the US.
In 1918 the American artist began exhibiting her oil on canvas, first in New York at 291 – Alfred Stieglitz's gallery who she married later – then internationally. Her corpus is predominantly composed of enlarged flowers as represented by Jimson Weed/White Flower No.1, the most expensive painting by a female artist ever sold. O'Keeffe also specialized in New Mexico's landscapes where she was spending most of her summers before definitely moving there in 1949. The desert surroundings and skulls inspired many of her works, just like New York inspired her previous skyscrapers series. With over 100 paintings, the exhibition at Tate Modern is the largest O'Keeffe show outside the US.

Georgia O'Keeffe, Jimson Weed/White Flower No. 1 1932.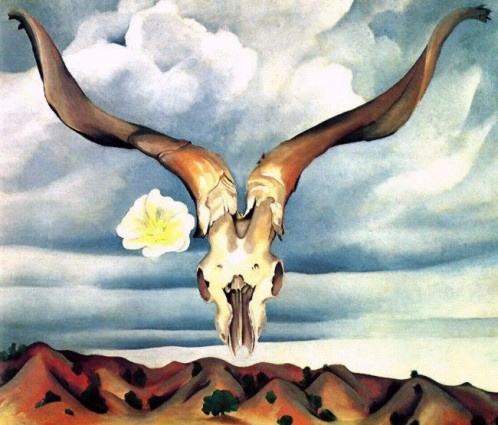 Georgia O'Keeffe, Ram's Head White Hollyhock and Little Hills, 1935

July 6 – October 30, 2016
Bankside
London
SE1 9TG
UK
---