---
Gustav Klimt
'The Kiss'
Key Pieces series
Today marks the 154th birthday of Gustav Klimt. On this occasion, we are analyzing The Kiss (Lovers) — one of the most renown works by the Austrian Symbolist painter.
1. Gustav Klimt painted The Kiss in 1907 and 1908 in Vienna. It measures 180 x 180 cm.
2. The painting depicts an embracing and kissing couple. The composition is inspired by The Kiss by Francesco Hayez painted in 1859.
3. It is a prime example of Klimt's Golden Period, period inspired by the Byzantine mosaics Klimt saw during his trip in Italy.
4. The shimmering, extravagant flat patterns suggest the Art Nouveau style while the organic forms is inspired by the Arts and Crafts movement.
5. Art Historians theorized that The Kiss might be a self-portrait of Klimt and his long-time partner Emilie Flöge, yet no clear proof can assert this fact.
6. Klimt's career was on the downside before he painted The Kiss. His previous ceiling paintings for the University of Vienna were derided as 'pornography' and 'perverted excess'.
7. The Kiss was bought by the Belvedere Museum before Klimt even put the finishing touches to it.
8. In order to acquire the work, the Belvedere paid 25'000 crowns (about 240'000$ today). Before that, the highest price paid in Austria for a painting was 500 crowns.
9. In 2003, Austria released a commemorative 100 Euro coin with an etching of The Kiss on one side and a portrait of Klimt on the other.
10. Street artist Tammam Azzam photoshopped The Kiss on a war-ravaged Syrian building in order to protest against Syria's suffering in war.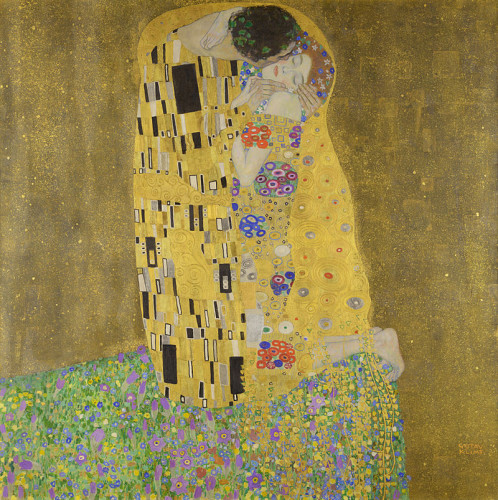 The Kiss (Lovers), oil and gold leaf on canvas, 180 cm × 180 cm, 1907–1908.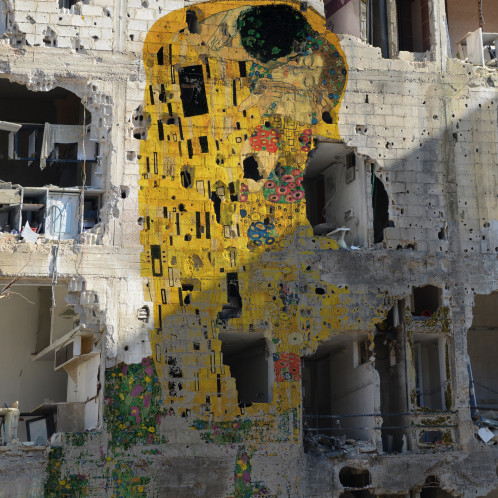 Tammam Azzam Freedom Graffiti, 150x150cm, Archival Print, 2012.
---