---
Herakut / The Giant Storybook Project
Miami
"The Giant Storybook Project" chronicles the on-going creation of Herakut's yet-unnamed new children's book. As the pages will adapt their works on murals, they are currently traveling different cities and painting various neighborhoods such as in Eresing, Germany; Montreal, Canada; Rochester, New York; San Francisco and Los Angeles, California, along with their most recent work in Miami, Florida.
"The Giant Storybook Project" introduces a wild and whimsical story of Lily, Jay, two giants, and their adventures on murals around the world.
Just recently, they turned two canvases ( 'You Know There is Something Wrong with You if You Don´t Even Get Along with Your Imaginary Friends', 'She is Alone in Her House of Air' ) of their heroine Lily into two sets of limited edition prints. A large, hand-finished set of 15, and a smaller sized edition of 25. Unfortunately, they both already sold out, but if you like to stay tuned, it will be best to connect with their "The Giant Storybook Project"'s Facebook page.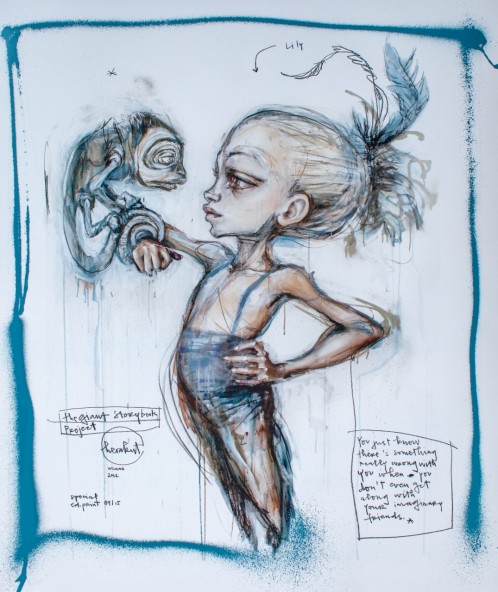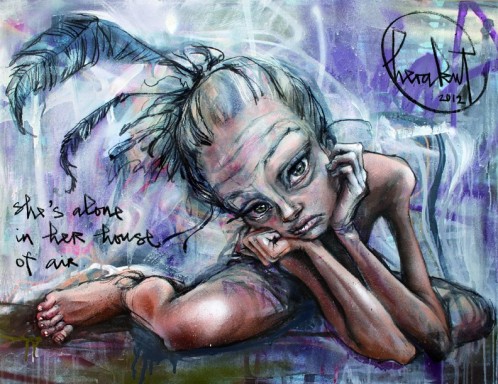 ---