---
Holton Rower
New York City
The Hole currently shows the first New York solo exhibition Pour Paintings of pour paintings by Holton Rower. Making use of several techniques, each image shows different effects.
Rower makes these paintings by pouring fantastic quantities of doctored paint onto plywood: however, the simplicity of this description belies the shocking and unexpected results. The paint flows slowly and determinedly over the surfaces he creates, timed to dry and spread at just the right rate, in color combinations both highly premeditated and fancifully spontaneous. The sloes of paint often fracture, vacillate, clump up, and extrude. Fissures and zigzags abound, as do waterfalls, U-turns, and smears, but always the flow triumphs.
Rower's pours come closer to the abstracting nature photos of Edward Weston than to the works of Pollock or de Kooning, painters who, even when most abstract, always left behind traces of the actions of their hands. Meanwhile, the breadth of suggestibility Rower's pieces spans such a huge range: from the geode-type pieces to the brain scannish works, from spaceships to vertebrae to Northern Lights, lace antimacassars, ghoulish masks, surfaces of distant planets, adipose tissue, underwater mollusks, dendrites, coral, sexual bodies, Christian relics, mitochondria and Golgi complexes: it's hard for the poetic mind not to run amok.
Rower was born in the psychedelic 60s and grew up working in his father's construction business, where he learned about heft and weight and managing teams of people to do massive undertakings. The grandson of Alexander Calder, Rower was surrounded by a culture of art making and the influence of amazing cultural figures. He has been developing and perfecting these pours in seclusion over the past five years. Recent shows at Pace last summer, John McWhinnie in New York and forthcoming projects at Shirazu in London are just the beginning of sharing these important works with a broader audience. A catalogue will accompany this exhibition.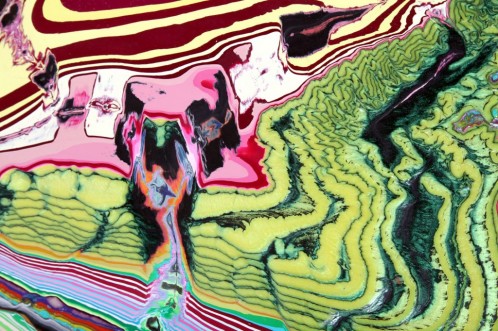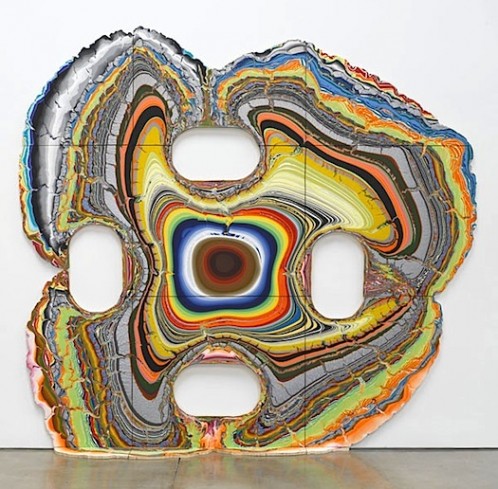 April 28th – May 26th, 2012
312 Bowery
New York, NY 10012
USA
---