---
In conversation with Ian Berry
San Francisco
Shooting Gallery currently presents Hard Time Mini Mall, a group show curated by New Orleans' Red Truck Gallery. Averse to cute, glib art, Red Truck Gallery owner Noah Antieau has curated an exhibition to reflect his conviction that for art to be truly noteworthy there should be evidence of labor. As such, Hard Time Mini Mall showcases eleven artists, each one with a clear focus on craftsmanship. One of them is British artist Ian Berry. We met him and discussed his early days as well as his latest works.
Wertical: Mr. Berry, denim is the essential material of your art works; is it crucial for your life, too? Do you wear denim shirts or pants a lot?
Ian Berry: Shirts or pants? I think that should be AND. I do wear a lot of denim, sometimes together. But I wouldn't go as far as saying I am a freak with denim. I have overalls, pants, shirts, jackets, shoes, boxer shorts and even a bow tie. I may have to readdress that freak thing I said. In all seriousness, I do have those things but before doing this I didn't have any unhealthy infatuation with denim. Many people think I am an expert on denim, and while now I probably know more than the average person, it isn't true at all and my work is not about that. It is more the realisation that I am comfortable wearing denim as are many many people around the world and you can enjoy it without being an expert. There are so many blogs and other things filled with experts on denim, but you need not be one to enjoy and understand jeans. Most people will have their favourite jean that when wearing it helps them face the world with that bit more confidence.
WE: Denim is quite an unusual tool for making art; how did you start experimenting with it and finally using it for your works?
IB: It is unusual I guess, but if you think about it, what is there a lot of around all of us? It isn't too hard to find material as so many people are going through so many jeans there are lots left over in vintage stores, charity shops and luckily for me – I now get lots of donations. You probably can find it so much easier than paint or a spray can!
It all started though around the time I was about to leave uni. My mum knew I was never coming home so she started clearing my room of all my things I had left behind. Old Dvds, Books …. things I didn't want my mum to see and finally this great big pile of jeans. I wondered where to start on it all and then I was just staring at these jeans, all the different shades and then it hit me not to throw them away – many had many great memories. I had done a collage at uni (from newspaper) so the connection was already there. Then, there was a lot of experimenting. It is not too dissimilar to painting though. You are working with light and shade, its just the denim is my paint. One thing that I can get out of it is a depth (which is often lost in reproduction) by building the layers of denim up – allowing to get a real perspective. In the portraits I do I use the material to act like I am painting with a palette knife.
WE: In the past more than today, denim communicated a certain lifestyle and attitude; what do you want to express by using it for your art?
IB: I will openly admit that the first time I was using denim, it was the pure aesthetic value of the material that interested me. But over time, and with learning more about the history of the fabric and understanding more about people's feelings about jeans it took on a lot more. It is linked to many symbols and feelings not to mention the many dualities. You talk of the past, with this you surly refer to that of the rebel. While today it is worn by anyone and everyone, crossing all social classes, race, sex, nationality (bar a few) and is so ubiquitous. My interest is in the everyday, especially urban areas. Sometimes I like to capture declining areas, like the American diner and by using such an American material – an icon itself – goes together so well. The wide spectrum of meanings and thoughts linked to denim allow for many things however, but sometimes also hinders me. Everybody has some emotion linked to denim, but I also find that in everyday life people now feel comfortable wearing it, and I like to transfer that into the gallery setting – I don't know if it is a good thing, but many people say 'I am not really into art, but I like this…' My mentality is that denim is for everyone, and so should art. I like to think it is a documentation of everyday life in a everyday material, but then again, I am just doing what I like.
WE: Magazines and news stands are a reoccurring theme in your works. What is it that fascinates you about print matters?
IB: This is a good question. The magazines probably haven't been as recurring as you would first think – mainly as they all made up the one piece – the News Stand. And this is the only time I did either, although I wouldn't rule out future ones. But because of the size (It is life-size) there is an awful lot of them – so they certainly recurred for me over a few months! But it does bring out the question of how I think my background has influenced my work. I have always been interested in design, typography and branding and if you add billboards, posters and branded logos or street signs with the magazines a lot of my work does include these. I think one I am drawn to this after having a background as an Art Director, but it is also unavoidable if I choose urban areas as they are now full of them. I also like cutting out letters.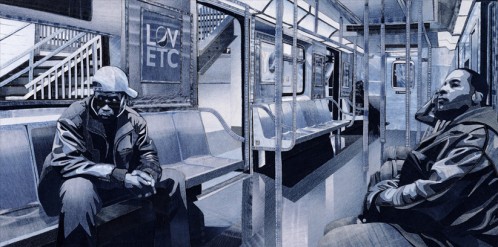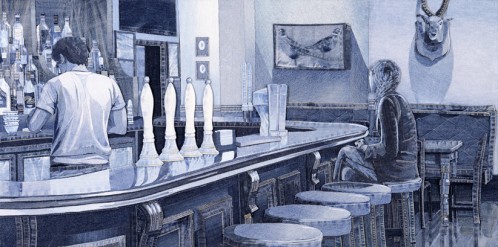 April 13 – May 4, 2013
886 Geary Street
San Francisco, CA 94109
USA
---