---
In Our Wake
Los Angeles
In Our Wake profiles new work from eight artists including Caitlin Hackett, Craig 'Skibs' Barker, David Cooley, Drew Young, Henrik Aa. Uldalen, Jason Thielke, Liz Brizzi and Mary Iverson.
Craig "Skibs" Barker likes legs. The Southern Californian artist grew up during the early '80s in the midst of both the punk rock and surfing culture explosions. These influences soon inspired his own fine art. With a healthy dose of punk flyers, album covers, and surfing magazines buzzing through his head as a youth, Barker began making flyers and t-shirts for his friends and his own punk bands. Fast-forward to today: Barker's most recent paintings infuse his long-standing love for painting and rendering the human female figure with his punk-fueled graphic design.
Mixing different approaches, techniques, and mediums, he creates a sense of memory, personal history, and appreciation for the female form. Combining elements of pop culture, literary censorship, and a positive mental attitude, he creates layered scenes of voyeuristic mischief. Barker's work explores the junctions between past and present, memory and imagination, fantasy and reality, while creating a dialog between image and viewer. More recently he has been involved in creating spatially extended versions of these mixed media creations via three dimensional assemblage pieces, and large-scale gallery installations.
David Cooley was born in North Hollywood, CA in 1978, and currently lives in Santa Barbara, CA. He's been creating art ever since he was a youngster. Now he's creating intricate multi layered, multi dimensional mixed media paintings using mostly acrylic, resin, spray paint, pen and fabric, to achieve an effect in and of his own. He's always been inspired by the idea of creating something that's previously only existed in thought and making something that's tangible, with the intent to have an impact on others, weather it's thought provoking, fun, or just aesthetically pleasing.
Drew Young's work currently focuses on lost and found adolescence. We are lost in our self-indulgent primal behavior, forgoing the morals and values our parents have instilled in us. In these images we reflect on our own experiences of these dark visceral moments and places. Our juvenility is found when we disregard our age and act on impulses, often finding ourselves demonstrating irreverent, self-gratifying exploits.
Spontaneous in some parts and carefully designed in others; my explorative compositions are the backbone to the figurative rendering. The result is sporadic abstraction paired with hyper-realism. My technical focus is to illuminate subjects with areas of saturated clarity, while obscuring them with textures of the known and discovered. The work blends the authentic with the abstract in order to form a relationship between the figure and the intangible – between order and chaos.
Henrik Aarrestad Uldalen is a self-taught artist whose creative production revolves around classic figurative painting, presented in a contemporary manner. The atmosphere in his subject matter is often depict in a limbo or dream-like state. Despite his realistic approach, photographic accuracy is not what he seeks to achieve.
Jason Thielke's work demonstrates aesthetic elements that encompass both contemporary and traditional techniques much like modern architecture. This style emerges in deeply personal, figurative works, which comfortably contrast hard lines with soft features and mixed emotions. In the past, the artist's process of drawing, composing, and transferring images has mirrored the planning, deconstruction and reconstruction phases of urban gentrification. Later works speak to Thielke's fascination with behavioral juxtaposition within the individual. The conflict between one's ability to implement self control and compulsion to manipulate and constantly self-gratify emerges as a reoccurring theme. Jason Thielke's drawings illustrate this struggle with mathematical precision. Constellations of the human experience, the artist utilizes simple, structural forms to portray stark contrasts within the spirit of his subjects – swirls representing natural beauty and positive energy; straight lines referencing intentional thought and manipulation used to influence others. These figures depict the idiosyncrasies of human perception, examining the dynamics of body language, eye contact and spiritual interaction.
A native of France, born of Italian parents, Liz Brizzi grew up in Los Angeles. Inspired by urban themes, she loves to portray the beauty she captures in the raw, desolate and industrial aspects of cities and their outskirts. Her unique mixed media technique begins with the manipulation of her original photography collaged onto acrylic painted wood panels, finally blended within layers of colorful acrylic washes. She began this series of works with landscape paintings of the streets and alleys of Downtown L.A. A city that is currently changing and developing rapidly, her artwork captured its authenticity and some of the disappearing traces of its History. Some of her more current work is less lifelike, as she utilizes various architectural details found in her photos to create more complex graphics, structures and imaginary landscapes, while using shapes reminiscent of street art found in the very same cities she photographs.
Mary Iverson is a painter and public artist. Her work portrays the clash between globalization and the environment, offering visions of container ships as they collide with national parks in surreal, post apocalyptic scenarios.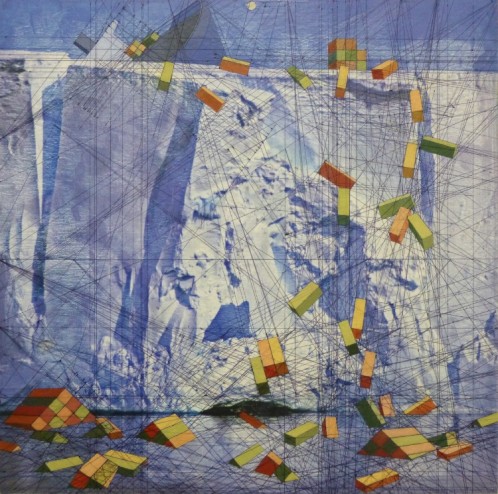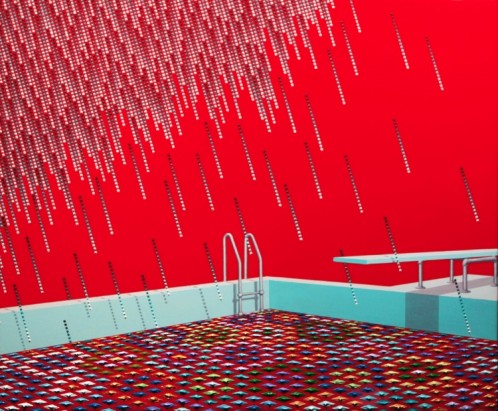 February 9 – February 23, 2013
6009 Washington Blvd.
Culver City, CA 90232
USA
---