---
Jean-Michel Basquiat
'Basquiat: The Unknown Notebooks'
Brooklyn
'Basquiat: The Unknown Notebooks' at the Brooklyn Museum exhibits newly found notebooks from the American artist. Poetry, wordplay, sketches and personal observations are the red thread of the 160 pages presented in parallel to his renowned painted works.
With the graffiti tag and pseudonym SAMO (for Same Old Shit) and his communicative black crowns painted all over New York's walls, Basquiat made himself a name that led him to exhibit and work with Keith Haring, Robert Mapplethorpe and Andy Warhol. The latest introduced Basquiat to the New York artist scene. They started to work together and produce common pieces unifying their unique skills. Warhol died in 1987, leaving Basquiat who passed away a year later of a drug overdose.
The very intimate notebooks evoke every aspect of Basquiat's existence, struggles, creation, inspiration and origins. Texts and images are interconnected, representing Basquiat visual evolution through the SAMO movement to his characteristic skeleton-like figures and African inspired faces. A very evocative way to exhibit the painter who always jointed both writings and figurative expressions into his works.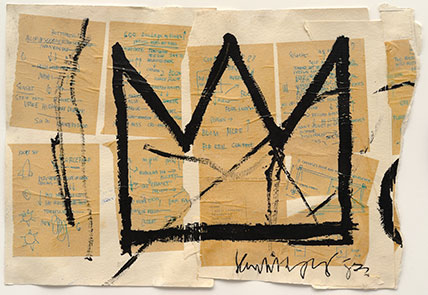 Jean-Michel Basquiat (American, 1960–1988). Untitled (Crown), 1982. Acrylic, ink, and paper collage on paper, 20 x 29 in. (50.8 x 73.66 cm)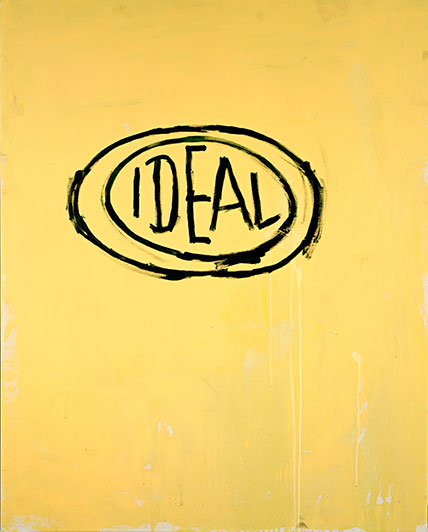 Jean-Michel Basquiat (American, 1960–1988). Untitled (Ideal), 1988. Acrylic and oilstick on canvas, 491⁄2 x 391⁄2 in. (125.7 x 100.3 cm).
April 3 – August 23, 2015
200 Eastern Parkway
Brooklyn, New York 11238–6052
USA
---