---
Juergen Teller
MACHO
Athens
Under the ironic title MACHO, Teller, a photographer whose practice makes the debate about the boundaries between art and fashion obsolete, showed for the first time in Greece a highly introspective body of work.
Teller has never been one to shy away from capturing in his peculiarly informal and often humorous pictures the plainness and beauty, averageness and extraordinariness, hardness and fragility of the human being. As a result, he is one of the few photographers who have elevated fashion photography to a new kind of artistic expression. His work, when it first appeared in magazines, was a revelation, expressing a new kind of authentic style, which has since been much imitated.
Teller is perhaps the first photographer to present his work in very different contexts without ever compromising his unique style, whether shooting for advertising campaigns, fashion editorials, billboards, magazines that found their way into the homes of a wide audience, or for exhibitions in art venues around the world. "I am just producing works and try to find channels where I can express myself," Teller remarks: "It may be a magazine, poster, book, or billboard… whether it is art or photography, I really don't care."
At the core of the concept of machismo sits a pronounced – perhaps too pronounced – sense of male supremacy and pride. Teller's choice of title for his Athens exhibition intimates a desire on his part to comment on and perhaps poke fun at the narcissistic male. Many of his pictures, including his famous self-portraits, are the result of a role-playing experiment where model and photographer swap places. Teller is seen to seamlessly slip from one role to the other, no drumroll in the background: he often photographs himself in different moments from his private life. "I rarely aim to show off my masculinity, or proclaim myself the ideal male. On the contrary, I am often to be seen in effeminate or ridiculous funny poses," he confesses.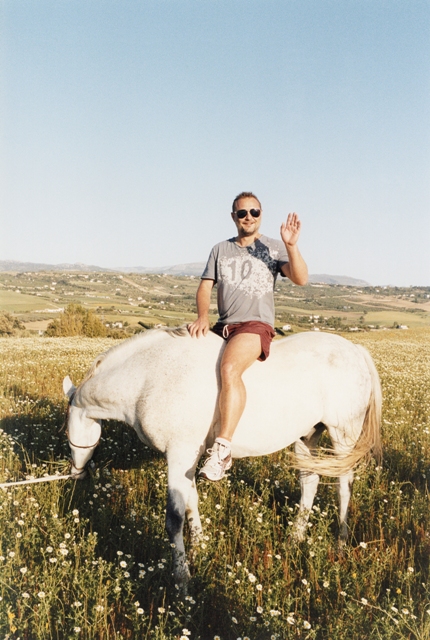 Self portrait, Daisy Perfume, Ronda, 2010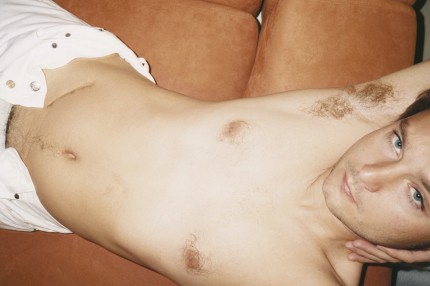 'Me', Lecce, Italy, 1995
June 21 – October 29, 2014
Filellinon 11 & Em. Pappa street
N.Ionia 142 34
Athens
Greece
---