---
Kate MccGwire
London
Sculptor, Kate MccGwire, probes the beauty inherent in duality, exploring the play of opposites – at an aesthetic, intellectual and visceral level. Her current solo exhibition Lure at All Visual Arts is a dual reference to the ring of feathers used by a falconer to call and command their birds, and to the siren-like call of the work itself. It evokes the combination of our fascination with the iridescent, exotic specimens on display and the desire to look closer in spite of the disquieting atmosphere they create.
MccGwire's work uses the language of nature's forms to construct impossible creatures, pitting the beauty of a bird in flight against our instinctive revulsion to these unnatural forms in close proximity. Their feathers are both alluring and abject, and appeal to our subjective experience as we confront the breathless, convoluted structures. Her sculptures exist in the periphery between the living and the dead, challenging our perceptions of the authentic and the imaginary.
Lure's seductive yet unsettling collection of hybrid forms and expansive sculpture causes us to look more closely and to examine our relationship to such quotidian materials. Though they appear disturbing and unfamiliar at first glance, there is something strangely recognisable about their form – their creases and crevices seem somehow bodily, allowing us to identify some small part of ourselves in the sculptures. This unexpected familiarity is at the heart of the work, allowing us to recognise the parasitic, wounded and traumatic dimensions of works such as Stigma and Host in which feathers cling to surfaces or appear to tear lesions in the surface of the lead. MccGwire's work recontextualises natural materials, creating an impossible menagerie of writhing forms that expose both the beauty and darkness of nature, and reflect our own fears and vulnerability in their swelling shadows.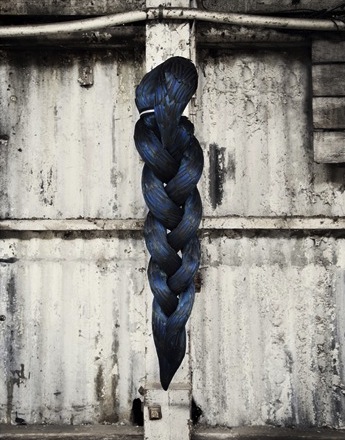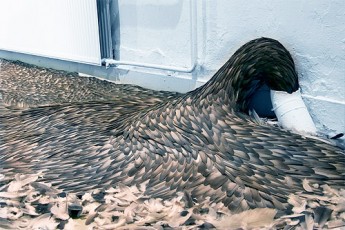 November 23rd, 2012 – January 26th, 2013
2 Omega Place
London N1 9DR
UK
---