---
Kenny Scharf
Los Angeles
The current exhibition Hodgepodge at Honor Fraser gallery features paintings, sculptures, a Cosmic Cavern installation, and a customized Cadillac.
As a child Scharf was fascinated by television and consumer culture. Sitting only inches from the television screen, young Scharf became obsessed with vibrant and surreal imagery of cartoons and low budget sci-fi films. Optimism oozed from these dewy forms of popular culture, reflecting an era when the medium of television was still new and shiny. The outlook towards the future during the 1950s and early 1960s was a lustrous one filled with invention, cutting-edge products, space travel, and an unabashed vision of a better life. Coming on the heels of World War II, the hopefulness of this era was authentic. Various new industries and the jobs they developed were flourishing alongside the comforts of peace and suburbia. There was an aura of progress and prosperity, creating a seemingly realistic expectation of eternal euphoria. This feeling of positivity unhinged is threaded throughout all of the works in Hodgepodge.
While a young artist living in New York in the 1980s, Scharf and other artists of his generation were drawn to works originating from contexts outside gallery spaces. Whether that was graffiti, performances, or parties at the famous Club 57, Scharf sought to incorporate his works within situations that anyone and everyone could relate to and more importantly, experience. Like Warhol before him, Scharf became interested in merging the highbrow with the lowbrow, and began working towards ways of incorporating pop-culture into his paintings. As a way to rebel against the highly academic work that was being shown at the time, Scharf's work reflected an Eden filled with animated colors and fantastical subjects ranging from the Flintstones and the Jetsons, to imaginary characters that could cast either gloom or euphoria onto the desired canvas.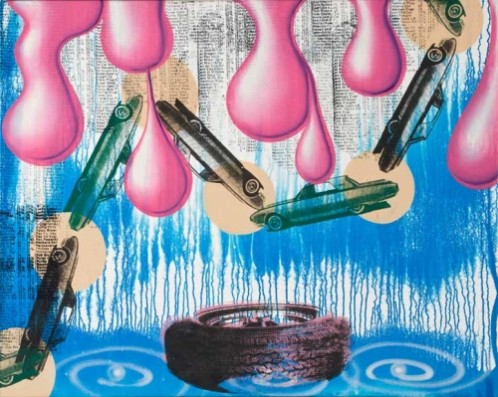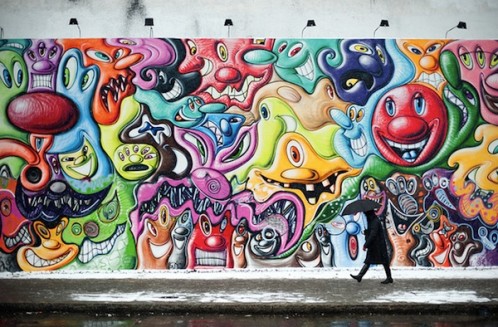 April 14th – May 29th, 2012
2622 S La Cienega Blvd.
Los Angeles, California 90034
USA
---