---
Michael Sailstorfer x COS
Berlin
Continuing their collaborations with main figures of the world of art, design and architecture, COS launched a new one just in time of Gallery Weekend Berlin. The Swedish fashion brand teamed up with German artist Michael Sailstorfer, who created Silver Cloud – a performance definitely questioning our perception. While the title hints at somewhat gentle and light, Silver Cloud is the exact opposite. At center stage, there is a crane holding a two tons iron cloud. The performance was exclusively shown during the launch event on April 27. Again and again, the seemingly light cloud was romping the concrete ground. For the time of Gallery Weekend Berlin, the aftermath of the installation is on show at Sailstorfer's studio in the backyard of Liebermannstrasse 24 from 10 am to 4 pm each day until May 1.
Michael Sailstorfer is no new Wertical interviewee. Right before the opening of the group exhibition Self at Schirn Kunsthalle, we talked the piece that he shows in Self as well as art and the art market. Now – just shortly before the performance launches -, we sat down with him to talk his latest work and COS. Karin Gustafsson Creative Director at COS, joined the conversation providing an insight of her thoughts on the collaboration.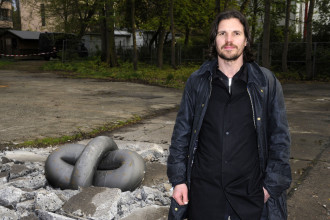 Wertical: Two weeks ago during the Salone del Mobile you presented your collaboration with Japanese architect Sou Fujimoto. Now, on the occasion of Gallery Weekend Berlin, you launch your cooperation with artist Michael Sailstorfer. What is it all about?
Karin Gustafsson: For us it is about working with an artist that we find inspiring and who we admire. We give the artist or the architect a blank canvas. We do not want to interfere with their work. We came across Michael's work two or three years ago and wanted to combine his work and his DNA with our work and designs.
WE: Your collaborations prove it best: architecture and art are two main sources of inspiration for your works. Which other fields inspire your collections?
KG: We look in bit and pieces and other fields such as music that inspires us a lot. When we start off with a collection we might look for some texture aspects or silhouette aspects but in the end, we seek to create an overall atmosphere. We tend to work with draping, paper collaging or drawing. We work very creatively. Then we have a solution and reduce it until reaching the minimalist essence COS is known for.
WE: What collaboration is next?
KG: Yes, indeed, we are working with the Serpentine Gallery again. This year the pavilion will be by Danish architect Bjarke Ingels. And we are anew supporting the Park Nights that take place at Serpentine Gallery in summer and early autumn, between June and October.
WE: Mr. Sailstorfer, it is the first time that you collaborate with a fashion brand. How did you explore that theme for your COS installation?
Michael Sailstorfer: Silver Cloud is a new piece in which one fundamental aspect is nature while the process and the equipment are more technological. It is a cloud sculpture. The model of it was made out of interacted cubes inflated with air. It actually is a light object that was casted in massive iron so it becomes a heavily shiny silver piece. During the installation performance, the sculpture gets dropped and lifted from a crane for about half an hour, slowly destroying the ground.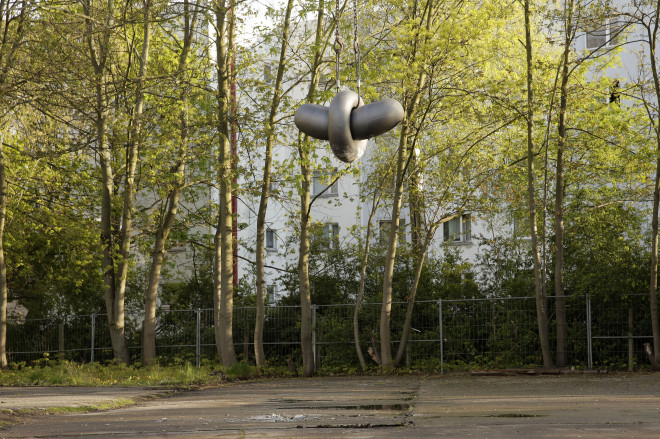 WE: So it's an unpredictable installation?
MS: Yes, exactly and that's probably why I am so nervous. It is the first and only time it will take place. Everything can change according to the weather. There will be a video documentation and of course the quality of the video, the atmosphere of the video will change with the weather, too. So it is going to be full of surprises. This piece is about losing control and letting the artwork taking it.
WE: This cloud is a recurrent form in your corpus…
MS: Yes, indeed, I used it before. I did one show in the Kleehalle in Düsseldorf when the new exhibition space opened. On a whole floor, there were 300 clouds sculptures hanging from the ceiling producing a spectacular effect. I also showed the cloud topic in Berlin already. There were 12 sculpture installed. And last year, I showed it in a gallery in São Paulo. It was always transmitting the feeling of something light and heavy at the same time through the material. With Silver Cloud I am getting the cloud to yet another transformation level. It becomes something really heavy, so heavy that it can destroy something else, the ground.  
WE: Indeed. Destruction is a reoccurring issue in your works.
MS: Yes, I think that the theme of destruction and the concept of stopping being alive and having a timeline is an important message in almost every one of my works. I like the everyday traces, the traces that we leave or omit to leave. This motif intrigues me and that's why it occurs again and again in my work, that it seems to repeat itself.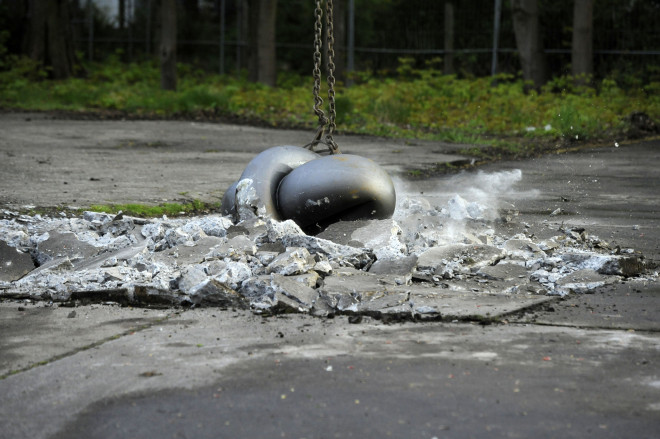 We: Is there a precise source of inspiration that you followed for Silver Cloud?
MS: Yes, two. Andy Warhol's Silver Clouds drawing a clear reference to pop art and providing the perfect name to explain this transformation from a light cloud to a heavy one. And, secondly, Michael Heizer's Bern Depression that he did in 1969 for an exhibition by Harald Szeemann at the Bern Kunsthalle. For this piece, Michael Heizer destroyed the pavement in front of the museum with a wrecking ball. Silver Cloud is therefore a reference to Heizer's work with the difference that Bern Depression was in a public space, in front of a museum, while Silver Cloud is way more intimate given that it will be performed in front of my studio which is a very private space.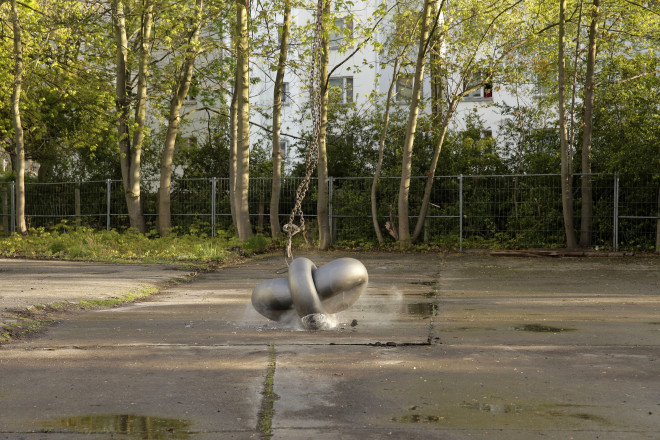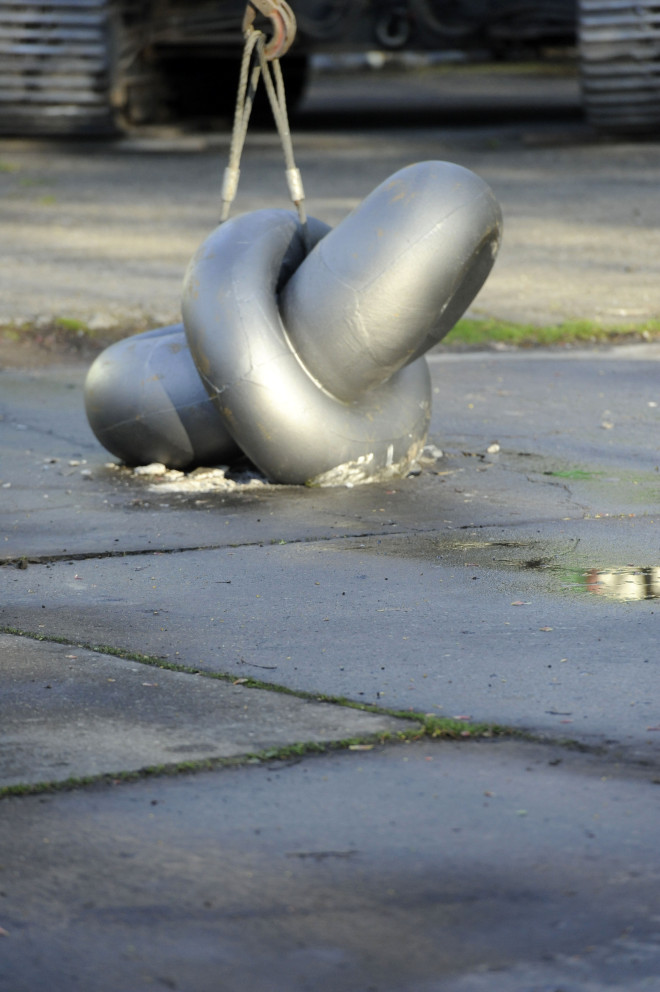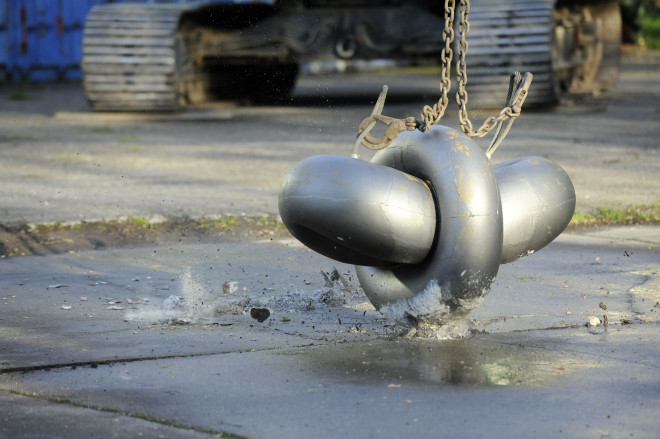 ---