---
Summer Reading
New York City
The Hole currently presents Summer Reading, a group exhibition and transformation of their Bowery galleries into a giant art book reading room. With works of painting, drawing, sculpture and photography, artists in this show explore the relationship of literature and print media to the realm of fine arts, or perhaps the slippages of meaning and experience between the act of reading and that of looking.
While many works are made from book covers, book pages or books and magazines themselves, many of the works deal in a larger sense with words or semiotics, the shapes of letters or the life of the mind within the realm of "arts and letters". David Shrigley contributes a lexically disruptive bronze sculpture and a work on paper that hilariously looks at the translation of an artist's oeuvre into print form via an interview. "Do you draw every day? Yes I draw every day." Troels Carlsen contributes a trompe l'oeil painting on paper revealing the poetry behind a dedication page of a lost novel; while Jen Mazza investigates what psychological content we bring to a simple painting of a closed Psychology textbook.
As a zine collecting bibliophile and a show full of book nerds, The Death of Print Media is less of a theme than is the celebration of print media, but death certainly is lurking: Harland Miller contributes an adjusted Penguin Classics painting asking "Death: What's In It For Me?" Sean Landers exhibits a memento mori library painting of adjusted titles, Long Bin Chen contributes two massive mausoleal busts of literary giants made from carved magazines, and Simon Evans a letter to the future from William Shakespeare.
That John Waters meme about making books "sexy" again by not sleeping with someone if you go home with them and they don't own books is certainly a theme, to me: Matthew Higgs has both as a curator and artist always sought to make reading a crucial and cool activity in the art world and contributes two new sculptures that literally bring reading into the gallery. Jesse Edwards perhaps literalizes the potential "sexiness" of reading, as do Devin Troy Strother's fornicating "Jungle Book" characters, while Kembra Pfahler or Hollie Chastain's cover girls flirt vintage-ly from their pages.
Various material elements of a book are explored, from their organic origins to their bonding, printing and tactile qualities; however, the duration and temporality of the written word and the unavoidable interiority of the act of reading are explored as well. Peter Funch captures a simultaneous composite moment when we dip into the silent, personal bubble of reading, highlighting the isolating nature of print, just as Andrew Kuo in his geometrically neurotic fashion looks at what part of his life is "best seller" and which part "a recyclable." Maurizio Cattelan and Pierpaolo Ferrari of Toilet Paper show an image from their new book where two figures are literally packed into and separated by their library, and attempt to hold hands across the void. Artists like Clare Rojas, Matthew Stone or Miranda July perhaps suggest just that "reaching across the void", depicting reading as something that we share and that ties us, idiosyncratically, together.
Participating artists include: Airan Kang, Alexander Rodriguez, Andre Saraiva, Andrew Kuo, Brad Phillips, Brian Belott, Brian Dettmer, Clare Rojas, David Shrigley, Devin Troy Strother, Dustin Yellin, Gareth Long, Geoff McFetridge, Harland Miller, Hollie Chastain, Holton Rower, Jacqueline Rush Lee, Jen Mazza, Jen Stark, Jesse Edwards, John Copeland, Kembra Pfahler, Leo Fitzpatrick, Long Bin Chen, Matthew Higgs, Matthew Stone, Michael Dumontier, Miranda July, Neil Farber, Paul Bright, Peter Funch, Scott Reeder, Sean Landers, Shane Bradford, Simon Evans, Taylor McKimens, Toilet Paper and Troels Carlsen.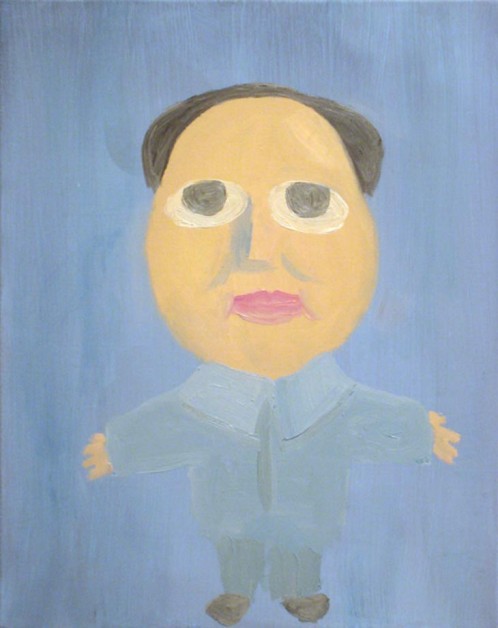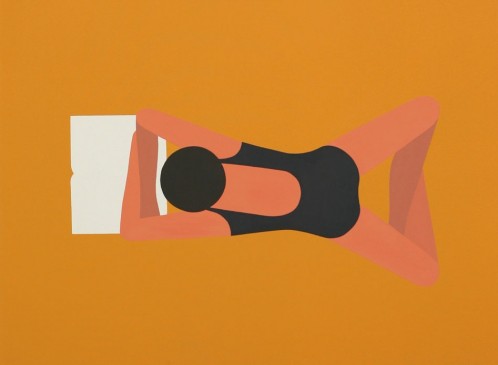 July 18 – August 24, 2013
312 Bowery
New York, NY 10012
USA
---