---
Terry Richardson
'Portraits'
Hong Kong
After 'The Sacred and The Profane' in 2015 in its Parisian location, Galerie Perrotin Hong Kong is currently showing works by photograph Terry Richardson. Entitled 'Portraits' the show displays portraits of famous personalities and close acquaintances of the artist.
Pop icons such as Amy Winehouse, Dennis Hopper and Lil Wayne share top line with intimate ones. Indeed, Richardson's mother, Annie, whose illness he documented before her passing away in 2012 as well as Bob, his father are part of 'Portraits'. Through very recognizable aesthetics that combines raw sexiness and intimate takes, the American photographer ranks among the most successful ones of the 21st century. His corpus is characterized by unique relationships to celebrities who figure among the long list of his muses. From Liza Minneli to Kate Moss, they all have been captured by Richardson's lenses.
His oeuvre is as well symbolized by his unique person. Substantial glasses, mustache, and a lumberjack shirt constitute the fame and reputation of Richardson who amuse himself with provocation and openly critics American culture.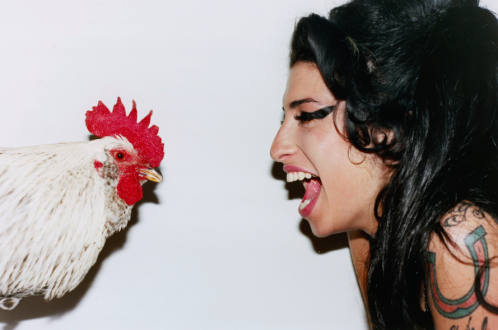 "Amy Winehouse" 2007. C-print mounted on aluminium, frame. 120 x 180 cm / 47 1/4 x 70 7/8 inches


Installation view

Terry Richardson

Galerie Perrotin

January 14 – February 20, 2015
50 Connaught Road Central
17th Floor
Hong Kong
China
---