---
this one's 4U (pa' nosotros)
Boston
The Boston Center for the Arts hosts this one's 4U (pa' nosotros), the first solo exhibition in Boston for interdisciplinary artist William Cordova. The show brings together new and recent works in sculpture, installation, video and collage by the Miami and New York-based artist, unmasking and remixing seemingly disparate repressed histories through thoughtful and subtle juxtapositions of familiar detritus.
The Peruvian-born artist's work imbues displaced historical narratives with new meaning, conflating previous events with contemporary context and creating rich monuments to individuals, events, and cultural and ritual signifiers. His materials reflect the temporality of the subjects themselves, using discarded pages from books, reclaimed wood and stones, newsprint, found footage and salvaged cars to conjure intimate connections between far-reaching chronological points.
The exhibition's titular piece, this one's 4U (pa' nosotros), 2010, is a multimedia sculptural installation operating as a post-Third Cinema experiment, conjuring the doctrine that filmmakers Fernando Solanas and Octavio Getino originated in 1969. Conflating images of Federica García Hurtado's 1984 film, Tupac Amaru, the last indigenous Incan leader in Peru, with images of Tupac Amaru Shakur, the late rapper gunned down in 1996, viewers are invited to explore the implied narrative between the two men.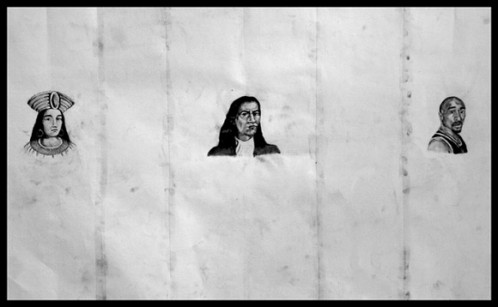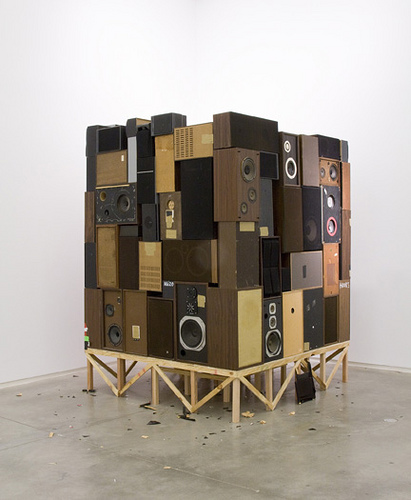 Mills Gallery at the Boston Center for the Arts

February 10th – April 15th, 2012
539 Tremont Street
Boston, MA 02116
USA
---