---
Word To Mother
San Francisco
Fuck You Pay Me is an ongoing project from London-based artist, Word To Mother. Being self employed for a decade and frustrated with the constant struggle of getting paid by clients, WTM has been producing Fuck You Pay Me Bats as an embodiment of his disdain.
"Any self employed creative will understand how frustrating it is to get paid by clients who want work done immediately but then are reluctant to pay. I have devised a solution to the problem, the Fuck You Pay Me bat. If you have not received your payment within 30 days of completing the job, simply take the bat to the employer who is reluctant to pay and let the bat do the talking. 100% success rate guaranteed."
This installation will see WTM explore his FYPM mantra in the form of a brand new limited edition set of SF colorway, gold leaf, and diamond dust bats as well as some other exclusive extras that will be available on the evening. Don't miss out on your chance to own a piece of unique and useful artwork from one of the London's most exciting young artists.
London-based artist Word To Mother was born and raised in an English seaside town. After attending art school for illustration, Word To Mother entered into the art world. Word To Mother creates work that combines many influences into uniquely layered paintings, often atop pieces of salvaged wood.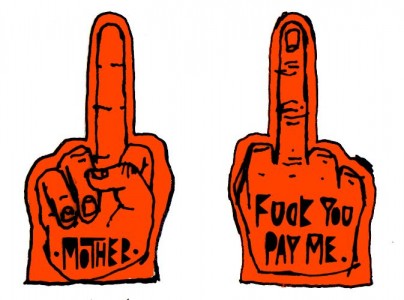 February 9 – March 2, 2013
839 Larkin St
San Francisco, CA 94109
USA
---