---
Yayoi Kusama
London
Victoria Miro currently presents seven new sculptures by Yayoi Kusama alongside a series of twelve recent paintings.
These sculptures are the latest in Kusama's ongoing Accumulations series of works, originated in the 1960s, in which Kusama covered the surfaces of everyday objects, items of clothing, furniture, boats – even entire rooms – with hand-sewn phallic protrusions. Kusama worked both in monochrome and highly colourful materials, often painting the protrusions in her signature polka-dots and other motifs for which she has since become universally recognised.
The sculptures in this exhibition recall in size some of the early domestically-scaled Accumulations, for which Kusama covered such things as ironing boards and travel valises in the stuffed-fabric protuberances, yet the works on view here are painted in the style that has come to characterize Kusama's most recent paintings. Incorporating the aesthetic vocabulary of widely opened eyes, polka-dots, nets, and organic shapes that have defined Kusama's seven-decades-long career, the sculptures appear as though Kusama's images have been released from the canvases they are surrounded by and have organized themselves into three-dimensional forms.
Kusama's preoccupation with the infinite and sublime to be found in pattern and repetition date back to her earliest paintings from the 1950s. However, it is in these most recently developed works – which encapsulate the surreal and the instinctual within the pop and the decorative – that we find an extension of Kusama's practice into her ninth decade that is as fresh and provocative as ever.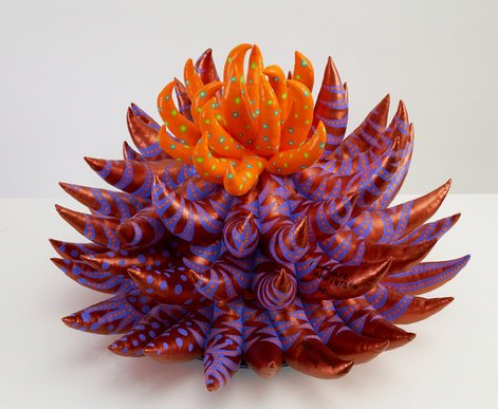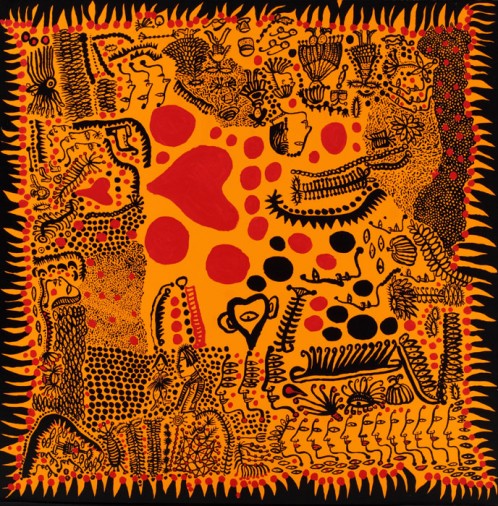 April 25 – May 25, 2013
16 Wharf Road
London N1 7RW
UK
---