---
Andrew Schoultz
'In Process'
Monterey
San Francisco-based artist, Andrew Schoultz, currently presents his works at Monterey Museum of Art. Schoultz is well known for his monumental public wall murals, paintings, sculptures, and mixed-media installations. He generates a high-energy impact with an overpopulation of meticulous renderings and controversial themes that resonate with cataclysmic force. Schoultz's imagery is furious and fantastical yet deeply rooted with American historical symbols and contemporary metaphors that create a vortex of political and environmental commentary. H
His influences merge 15th century German map making and 14th-15th century Persian miniature paintings, juxtaposed with highly-stylized graffiti and street art.
For his museum exhibition, Andrew Schoultz created a site-specific installation and mural on the walls of the Jane and Justin Dart Gallery at the Museum's La Mirada location, based upon the local histories of Monterey, and present his wildly gilded Fall Out installation in the McCone Gallery.
In Process is an exhibition series that focuses on current work by a contemporary artist. Each installment in the series will feature 10-25 works by the artist and will frequently include ephemeral, site-specific installations. In Process charts the most current developments in the field of contemporary art by championing the work of emerging and mid-career artists.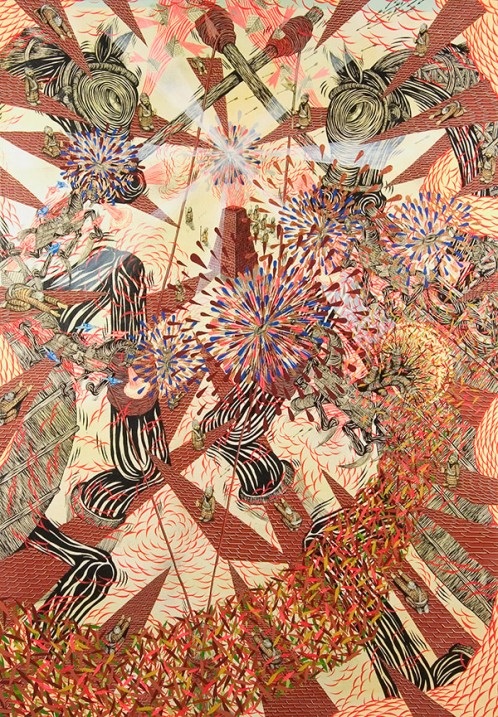 July 5 – November 17, 2013
720 Via Mirada
Monterey, CA 93940
USA
---