---
Ben Eine
London
Ben Eine is one of London's most prolific and original street artists. Born in London 1970, Eine started his career in the mid 80's as a graffiti 'writer' and 'train runner', leaving his tag all over London and most of Europe. This developed in the transition from graffiti to street art to his distinctive typographic style. The bright colourful and large letters that Eine has created around the world has transformed streets in cities including LA, San Francisco, Paris, Dublin, Tokyo to UK's small seaside town of Hastings, where he currently has a studio. From wry and complex statements, to bold and bright single letters, Ben Eine has become a influential figure within the scene.
On his recent visit to London, Spraying Bricks took the initiative and went down to catch the man and legend himself, Ben Eine, as he painted the walls of the London Newcastle Gallery and Shoreditch house, the two iconic walls he painted 3 years previous.
Ben is in the process of moving over to his studio in San Francisco from the UK. However, due to Californian laws, Eine is unable to ship all his paint over to the State, so what better way to consume the stock than by painting in the city where it all started? Ben uses the words "extortionist" and "protagonist" to highlight the issues within society, that everything is not as good as it is portrayed to be.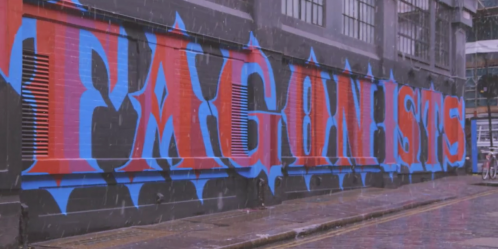 ---