---
David Hockney
Cologne
His swimming pool paintings are among the most popular image formulas of the 1960s. As one of the shining figures of 'Swinging London' and chronicler of the cool California way of life, David Hockney is world famous. But it is also thanks to his sensitive portraits, masterful still lifes and landscapes, photo collages, stage sets, and intelligent appropriation of art historical phenomena that he has held his position as one of the most important contemporary artists.
His multi faceted and incredibly fresh work is always full of surprises. Whereas in California Hockney had already absorbed the perception of space and the wide landscape in his panoramic pictures of the Grand Canyon among others, in the recent past, landscape painting has taken center stage in his creative process. Since his return from Los Angeles to rural East Yorkshire, a process begun in 1997 and finalized 2005, when Hockney settled down permanently in the coastal town of Bridlington with its hinterland of forests and agriculture, he has been creating uncounted landscapes. Mostly painted directly from nature, they provide the viewer with an unhindered approach. At the same time they exhibit a highly sophisticated finesse.
Parallel to traditional painting, Hockney has been experimenting with screen drawings he has been fabricating with the aid of iPhone-App "Brushes" for a while now. At first done on the touchscreen of his smartphones and meanwhile on his iPad, these images are strickingly lively. Intensely luminous on the screens, their large printouts make up an essential part of the exhibition. In addition, Hockney has most recently turned to producing impressive multi-focus films in a filming technique he has developed, and in which a projection onto nine connected monitors provides a unique viewing experience. In its complexity, the exhibition shows an artist who gives totally new impulses to the classical theme of landscape. What resonates in all these works is a deep committment and love to the visual world and towards the beauty of things.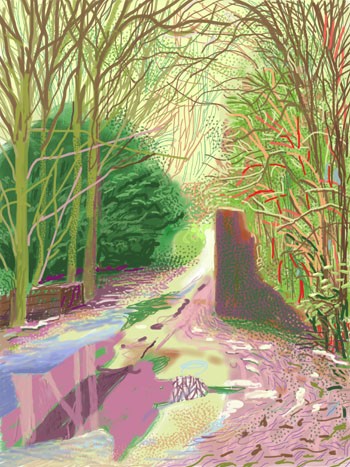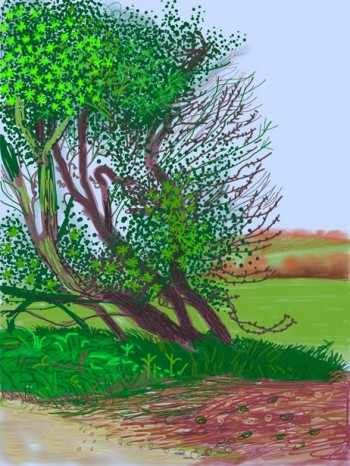 October 26th, 2012 – February 3rd, 2013
Heinrich-Böll-Platz
50667 Cologne
Germany
---