---
Gregory Crewdson
New York City
The feature film 'Gregory Crewdson: Brief Encounters' follows acclaimed photographer Gregory Crewdson's decade-long quest to create a series of haunting, surreal, and stunningly elaborate portraits of small-town American life — perfect renderings of a disturbing and imperfect world.
Crewdson doesn't just "take" his images, he creates them, through elaborate days and weeks of invention, design, and set-up. The epic production of these movie-like images is both intensely personal and highly public: they begin in Crewdson's deepest desires and memories, but come to life on streets and soundstages in the hills towns of Western Massachusetts. In his long-time project 'Beneath the Roses' he uses light, color and character to conjure arresting images, managing a crew of 60 amidst seemingly countless logistical and creative obstacles.
Filmed over a decade, beginning in 2000, 'Gregory Crewdson: Brief Encounters' provides an unparalleled view of the moment of creation of his images. It also reveals the life-story behind the work—through frank reflections on his life and career, including the formative influences of his psychologist father and his childhood fascination with the work of Diane Arbus. Childhood fears and ideals, adult anxieties and desires, the influences of pop-culture all combine to form who we are, and for Crewdson, motivate his work.
Producer, Director and Cinematographer: Ben Shapiro
Theatrical Premier at New York's Film Forum should have actually been yesterday, but due to Hurricane Sandy, the Forum is closed until electrical power is restored.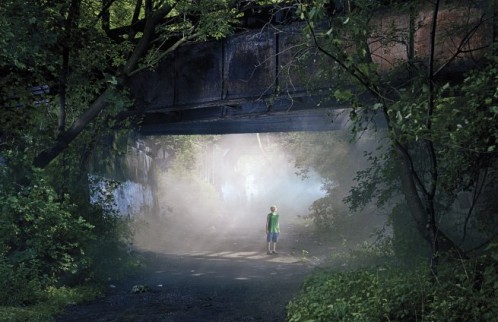 ---