---
Herakut
San Francisco
941 Geary currently presents Loving the Exiled, an exhibition that showcases new works of German artistic duo, Herakut.
Herakut's earth tones are layered upon each other, creating images that blend in with the environment around them. Though it's not just in palette through which the work presents an interest in nature. The people and animals that stand at the center of Herakut's pieces are created as a commentary on human nature, on the ups and downs of all the small wars we fight within ourselves.
Loving the Exiled deals with figures/symbols that have been thrust away from society, charged with guilt in some way, and used as scapegoats in an effort to simplify complex problems.With faces partially turned to glance at the viewer, the figures look at the viewers as if we have stumbled upon their lives, uninvited but perhaps expected. They gaze out at us with eyes both sad and resigned, asking nothing of us but a basic empathy.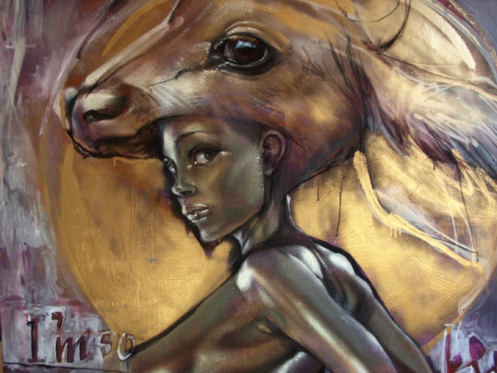 April 21st – May 29th, 2012
941 Geary Street
San Francisco, CA 94109
USA
---