---
Ida Applebroog
'The Ethics of Desire'
New York
Hauser & Wirth new show features the works by Ida Applebroog. This exclusive solo show entitled 'The Ethics of Desire', is a reference to the philosopher Plato and his ethics of exploration and desire. Applebroog cross-examines these questions by looking at the role they embody into our lives. Known for several decades as an engaged feminist, the American artist outlines womens issues and conditions through her sketchy style.
A six-panels high art work welcomes the visitor. Derived from the series 'The Ethics of Desire' it represents nine women walking in line in a military slash can-can dancer way. Indeed, all nine women are only dressed by high knees boots and project their legs in the air in a crazy horse dancer way, yet something looks wrong. The legs are too straight, the move too rigid. Applebroog's women seem programmed. This singular body depiction can be seen as well through two human size central figures in the show. A man and a woman, both naked, except a single attribute – a cowboy hat for the man, high heels for the woman. Applebroog is thus depicting an exposed vision of the gender status that are only wearing the ultimate feminine/masculine feature.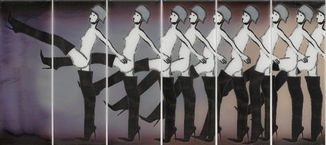 The Ethics of Desire, 2013, Ultrachrome ink on mylar; 6 panels, 299.2 x 652.8 cm / 117 3/4 x 257 in approx. installation size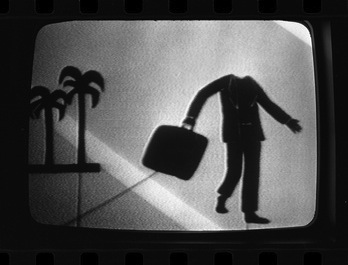 It's No Use Alberto, 1978, video, 10 min.

May 14 – July 31, 2015
Hauser & Wirth
511 West 18th Street
New York NY 10011
USA
---