---
In conversation with Mary Iverson
San Francisco
Washington-based artist Mary Iverson currently shows her latest works at Shooting Gallery's Project Space. Entitled Tangle, the exhibition consists of several of Iverson's multimedia works, which fuse collage and acrylic painting into a seamless union, along with an 8 x 14' mural on canvas.
As we are keen on Iverson's works ever since we saw them at the opening of her show, we asked her for an interview:
Wertical: If you had to describe your artworks to somebody who didn't have a chance to see them yet, what would you say?
Mary Iverson: The first thing you will notice when you see my work is a beautiful image of a pristine landscape. On further investigation, you will find that the landscape is covered with an intricate network of lines that obscures the pretty view. Next, you discover that there are hundreds of shipping containers and wrecked container ships caught in the snare of those lines, and you realize that you are witnessing the aftermath of an enormous catastrophe.
WE: The basis of each of your works is an object trouvé showing a landscape. What do these landscapes reveal? Do they work up personal memories of journeys? In what respect is it necessary for you to use objects trouvé instead of painting or photographing the landscapes yourself?
MI: The found photograph sets up the irony of the final piece. I cut my photos out of travel magazines, environmental magazines, and glossy wall calendars. These sources provide consumers with the fantasy of travel, the illusion of environmental protection, and the appearance of serenity. By appropriating these images and ruining them, I am parodying their intended message.
In my large oil paintings (I showed some of these last year at the Shooting Gallery), I use my own photographs. I travel to National Parks and State Parks, set up camp, and gather reference material. The research trips take on a ritual aspect because I feel that I am following in the footsteps of the luminist painters of the American West like Moran and Bierstadt.
WE: Shipping containers and shipwrecks are reoccurring themes within your works; what do they express for you?
MI: A stack of containers is like a stack of poker chips representing the viability of our economy. The capitalist system wagers the needs of a growing population against the stress the environment can bear. When I read annual reports from various ports, they talk about container volumes in the millions (5.5 million for the Port of New York/New Jersey in 2011), and they project that container volumes will continue to increase. My work raises questions about the ultimate destination for all of this growth.
WE: For your current exhibition at The Shooting Gallery Project Space you were working on a large-sized canvas for the first time. What challenges did you face?
MI: Actually, I have done large murals before, including 50-foot and 100-foot outdoor murals. I really want to do more murals in cities around the world. I enjoy large works because they surround me with color, and a giant painting allows me to set up drastic changes in scale from the foreground to the background. In these ways, a large mural can be more stunning than a small painting.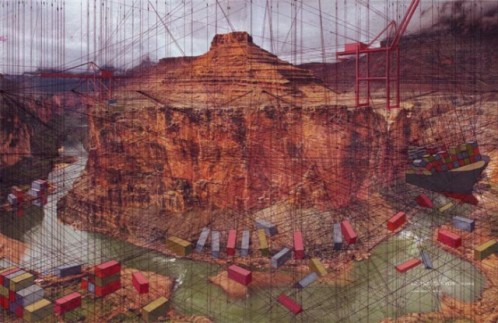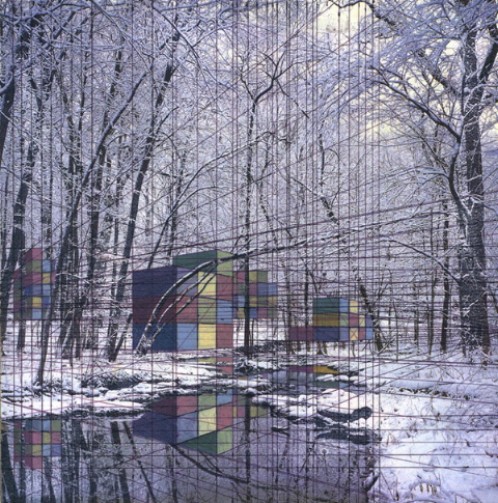 April 13 – May 4, 2013
886 Geary Street
San Francisco, CA 94109
USA
---