---
Jonas Burgert
STÜCK HIRN BLIND
London
Blain|Southern London currently presents a new body of work by German artist Jonas Burgert. Entitled STÜCK HIRN BLIND, the show includes his largest painting to date, a monumental work spanning eight metres, together with two figurative sculptures, each modelled from clay, cast in bronze and hand-painted by the artist.
Burgert's paintings present a world in which time is suspended, once removed from our perception of the every-day. In this paradigm – an environment which is in constant flux – human beings are depicted as unique, contorted creatures both familiar and fantastical. Often naked, sometimes splashed with the artist's trademark fluorescent colours – a melange of acid yellows, electric blues, purples, pinks and reds – each appears to be engaged in some form of quest, the purpose of which is not immediately apparent to the viewer or, it seems, to themselves. They appear as dream-like figures, frozen in a moment of time – on the cusp of a revelation or point of awakening.
The effect on the viewer is unsettling, creating a climate in which they themselves are drawn into an examination of their own temporal struggles. One of the smaller paintings featured in STÜCK HIRN BLIND, immer (2014), is illustrative of this. A serene face is framed in a headdress constructed of black bandages. While this unsettles, it is the unwavering gaze of a single eye – the other concealed – which draws in the viewer. Its effect is disquieting, but also immersive, exploring the notion of the ego and sense of self, both conscious and unconscious, thus forcing the question: how do I see myself and how might I define my identity in relation to others?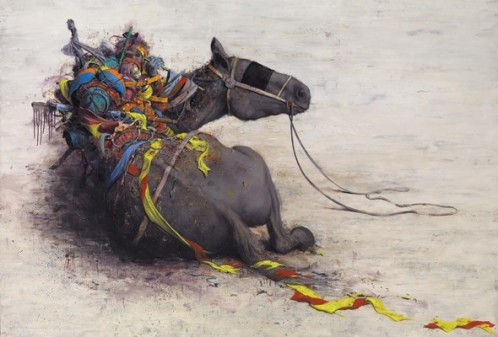 puls führt, 2014, oil on canvas, 240 x 280 cm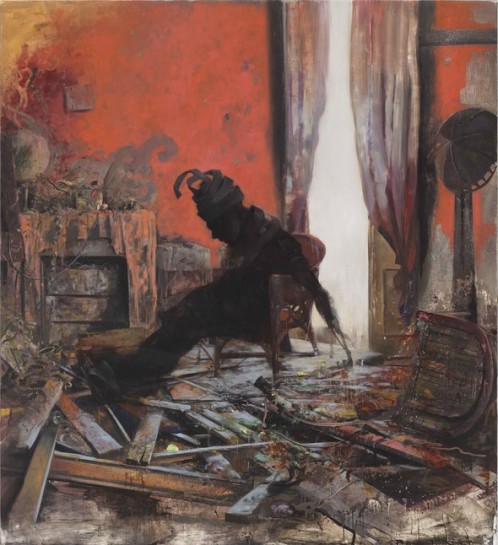 licht und wind, 2014, oil on canvas, 220 x 200 cm
October 14 – November 22, 2014
4 Hanover Square
London W1S 1BP
UK
---