---
Julia Mandle in conversation about her current exhibition
New York City
As announced a few days ago, Leila Heller Gallery currently shows Game II – an exhibition presenting works by Julia Mandle and her mother.
We conversed with Julia Mandle about her relationship to Gayle Wells Mandle, her inspiration, interests and chairs.
Wertical: You are collaborating with your mother; how did this start? Has your mother always been your source of inspiration and the starting point of your artistic career?
Julia Mandle: Although we've previously had three mother/daughter exhibitions, this is the first time we have collaborated on the actual artwork. Our large collaborative sculpture "Study for a Monument" (2012), related life-sized photography portraits and miniature "trophy" sculptures are the centerpiece of this exhibition. But we made work individually, too – I created new embroidery and drawings and Gayle created several new mixed media paintings. Our collaboration evolved very naturally. We have always been very open with each other during our individual creative processes. We constantly offer each other critique and suggestions. Gayle is more process oriented: she is fearless about destroying and rebuilding her own work as she paints. I begin with a concept and improvise with thread and other materials as I have learned to improvise with live performers over my career. It amazes me to think back to how organically we moved into envisioning work together.
WE: Your current exhibition Game II depicts "humanity's eternal struggle against imbalanced societies that deny their citizens equal opportunity." It is a topic that is ever-present. Your mother "witnessed the growing homeless population, especially in juxtaposition with the limousine-driven legislators" in Washington D.C. in the late 1980s. Do you recall similar experiences, too?
JM: I was also horrified by the huge contrasts in Washington D.C. and I got involved in political activism, meeting with people who lived on the street, and doing street performances. Gayle also got involved with local service organizations. I am very inspired by people who make a stand against oppression and injustice. For this current project, Gayle and I have been especially interested in the collective and the binding together of small acts of resistance that compose a larger political movement. Certainly we looked a lot at catalysts such as Mohammed Bouazizi who immolated himself in Tunisia in 2010 and literally ignited the Jasmine Revolution. But there are so many moments and sacrifices. Here, my thinking is influenced by the writing of historian Howard Zinn who regards revolutionary times in history as the result of a collection of small acts of bravery.
WE: What do chairs symbolize for you?
JM: The chairs symbolize people who took a stand against oppression and injustice. The chairs are very personal. They are mothers, fathers, sisters, brothers, teachers, workers, and activists – all of whom reached a point where they said "Enough. I won't allow this injustice anymore." The empty chair represents the moment when they stood up. And I am deeply interested in those moments when people rise up. That tipping point when they stop everything they are doing and begin to protest. It takes tremendous courage and I believe the decision comes from an emotional place. In my individual works, I allowed myself to reflect upon my own sense of confusion over our time. I constantly ask myself: Where is our society heading to? Are we rising up or falling down? Is it "Dissent is the mother of ascent," as Ralph Nader proposes? Each day has a different prognosis. This comes to view in my "In de War" (Dutch meaning confusion) charcoal drawings). And sometimes in the middle of what seems to be a huge victory for people's rights, others get trampled or overlooked. This contradiction is what I was exploring in my embroidery "Rising Tide" where you see at the edges of the big wave of embroidered chairs – some are falling other are left behind.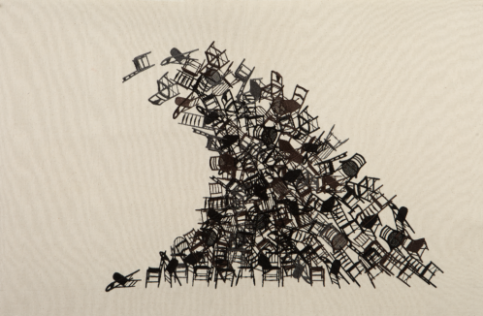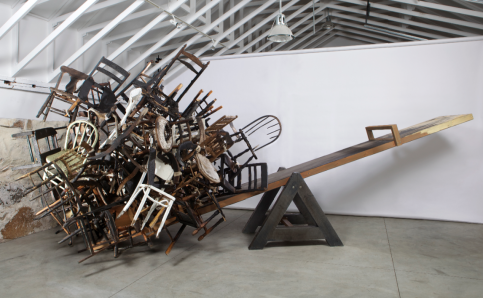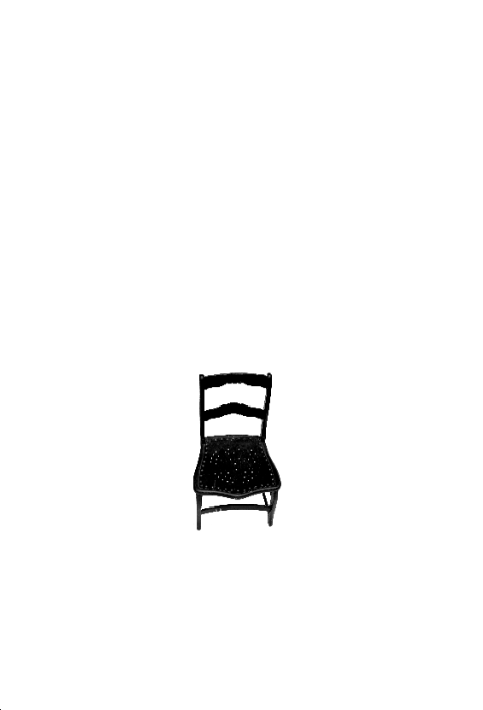 Current exhibition at Leila Heller Gallery
---