---
Kara Walker
'Emancipating the Past: Kara Walker's Tales of Slavery and Power'
Springfield
The Springfield Art Museum is currently showing 'Emancipating the past: Kara Walker's Tales of Slavery and Power'. The African American artist is hence on view with her cut-paper silhouettes, reminiscence of an international language.
No face, no color. The characters created by Walker aim at an universal self. The project was first begun with 'Gone: An Historical Romance of Civil Was as it Occurred Between the Dusky Thighs of a Young Negress and Her Heart' (1994). With a tangible reference to her African American roots and history of slavery, Walker's first silhouettes soon evolved towards an extensive pattern that could be applied to any countries, cultures and religions. Her emblematic forms are a powerful means to evoke and denounce human's dark history of violence.
'Emancipating the past' exposes 60 works from the Jordan Schnitzer Family Foundation embracing Walker's preeminent themes of race, gender, sexuality, violence and identity that are represented in a crude way through her works and are therefore recommended to an adult audience.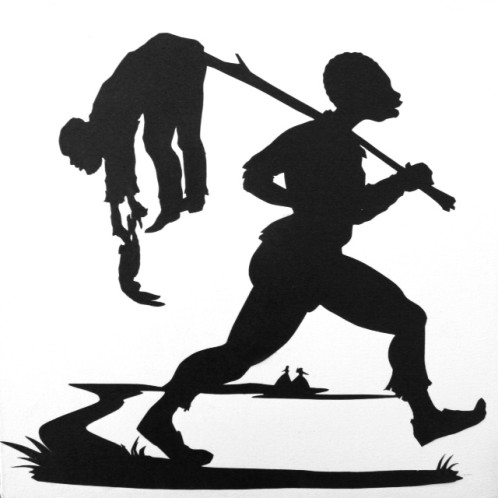 Kara Walker, Untitled, Paper on canvas, 1994, 10″ x 10″ (d)Collection Credit: Courtesy of Francie Bishop Good and David Horvitz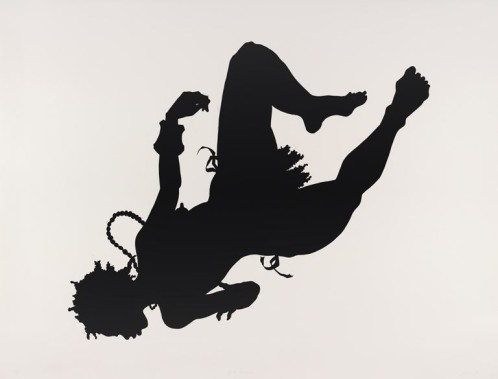 Kara Walker, African/American, 1998, linocut. Courtesy of Jordan D. Schnitzer and the Jordan Schnitzer Family Foundation.
September 12, 2015 – January 03, 2016
1111 E Brookside Drive
Springfield, MO 65807
USA
---