---
Kaz Oshiro
Los Angeles
The Honor Fraser Gallery is currently showing a Kaz Oshiro exhibition. The Japanese artist presents a new series of paintings working with monochrome tones and angles. Called 'Broken Paintings' the pieces reject the space by cracking the corners of the walls in a diptych or triptych situation.
Oshiro is mainly known for his artworks that combine both canvas and sculptures. He creates trashcans, counter, kitchen that appear to be real, but are fake in fact. Indeed, his constructions are canvases painted and assembled together to reach the outward appearance of a functional object that loses its functionality. By doing so, Oshiro interrogates the meaning and purpose of items, forms and vision.
With his new exhibition at the Honor Fraser Gallery, Oshiro plays with forms and space. New diptych and triptych pieces are on view. They look like folded in order to integrate the space, corner and angles of the gallery in various pastel tones. As such, Oshiro stimulates our optical sense and vision of what appears to be simple and real. This show follows his 'Sill Life' exhibition of 2013, and introduces his upcoming solo show that will take place at the gallery in 2016.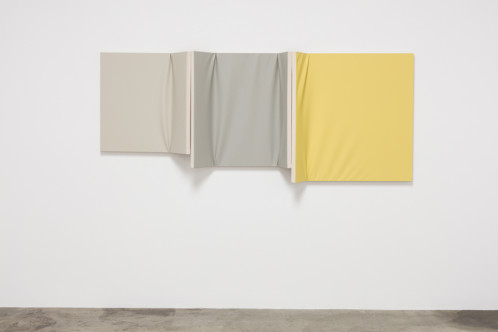 Untitled Still Life (Triptych), 2015 Acrylic on canvas 36 x 88 x 8 inches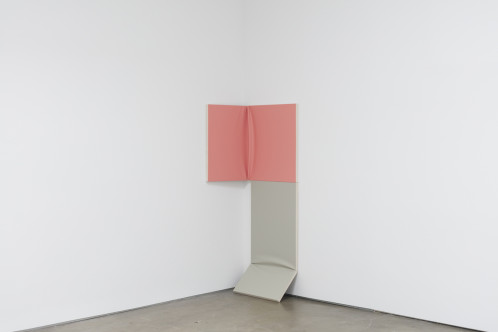 Untitled Still Life (Diptych), 2015 Acrylic on canvas 74 x 29 1/2 x 21 inches

July 18 – August 27, 2015
2622 S. La Cienga BLVD.
Los Angeles, California 90034
USA
---