---
Magdalena Kita
Emerging Artist of the Week
Polish artist Magdalena Kita is our Emerging artist of the week, a series in collaboration with the art platform UNAVAILABLE. Full of off-beat humour, her work encompasses performances, installations along with textile pieces. Whimsy, erotic and incongruous, Kita's works of art reflect on the bodies and their representation in society.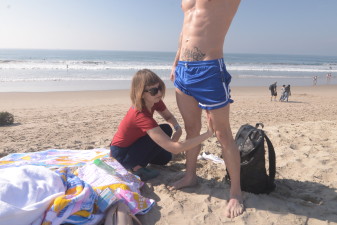 How do you describe your art to somebody who has never seen it?
I define myself as a painter. I produce images in many different techniques which act as kind of a trap for viewers mostly accustomed to stereotypical representations of the female body. These are explicitly figurative, and use contradictory materials. A lot of my recent inspiration comes from Byzantine iconography, 90s drugs culture, psychedelic revolutionary aesthetics from the 70s, and art brut.
Where did you study?
After some time at the Kunsthochschule Kassel and Jan Matejko Academy of Fine Arts in Krakow, I finished my studies with Rita McBride at the Kunstakademie Düsseldorf.
What did university and your professors give to you?
It was especially Krakow shaping me: I learned how to take my position as a female artist seriously. Barbara Leoniak was my first art mentor, and had a huge impact on my development. Kassel was a great environment to learn German and get familiar with the German art world.
Dusseldorf helped me to develop a network. Having an attitude played the most important role there, as it is a very masculine, macho environment. Partly as a response to this, I founded a radical feminist art group called CONGRESS with some friends. At first I studied with Tal R and Herbert Brandl, but my time with the McBride class was the most motivating. Rita is very open-minded about interdisciplinary art practices and she always believed in my work.
What are you currently working on?
I am working on a new series of drawings and images for a solo exhibition in Los Angeles this June. I'm also preparing to shoot advertisements in the United States this year with my painted beach towels, part of my Californication project.
What are your three artists to watch?
From more widely known names, I think Anna K.E. and Marina Pinsky are very good. Here in the Rhineland, Theresa Reusch is an interesting artist, and internationally I really like Amy Garofano from LA.
What does your artist career look like in five years?
I'll be working in a beachside studio, assisted by several handsome, inspiring, naked men.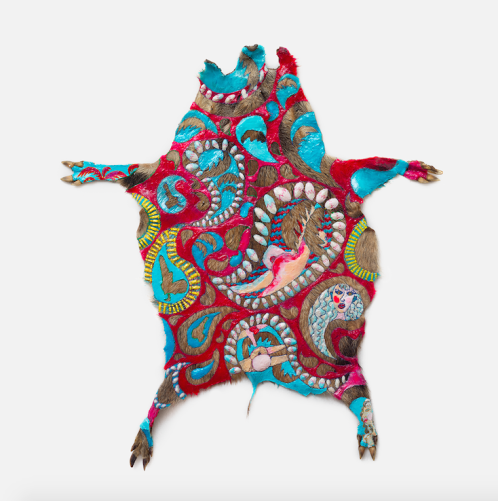 Fur from 'White Partisan', 2015, Acrylic on goat fur, 160 x 105 cm, Photo credit: Henning Krause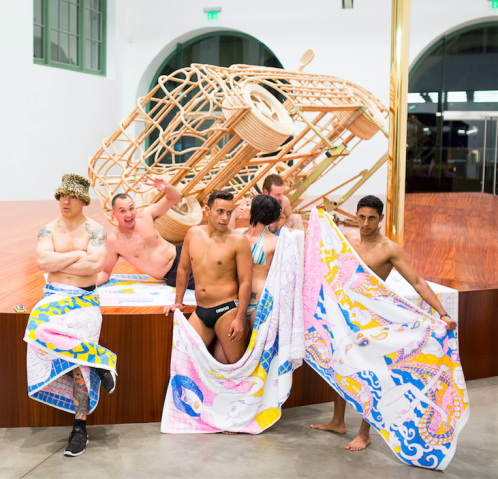 Californication, 2015, Performance with painted beach towels, 180 x 90 cm each, at Museum of Contemporary Art San Diego, in conjunction with 'Rita McBride: Public Tilt', Photo credit: Museum of Contemporary Art San Diego
---