---
Susan Hiller
London
Lisson Gallery consecrates a major exhibition to artist Susan Hiller occupying both locations on Bell Street. The American artist marked the last century with her personal works that explore both her world and the global artistic one. She works and excels at multiple medium such as installation, video, photography, performance and writing.
When asked to situate her art, Hiller places it in between Minimalism, Conceptual art and cites Minimalism, Fluxus, Surrealism and her background in Anthropology as primary sources of inspiration. Her academic education led her to question the systems of meaning and beliefs. 'Another' (1986) explores these traits. The work constitute of small glass relics filled with the artist burnt paintings' ashes. Composing them an individual cemetery. Other works on view explore Hiller's automatic writings skills extolled by the Surrealism movement and prospected through her 'Mary Essene' (1975-81) or 'Alphabet' (1985).
Showing another medium of her oeuvre, 'Belshazzar's Feast' (1983-84) is a video installation featuring ghostly, biblical and Rembrandt inspired shoots. This investigation of the life and the unconscious is deepened though her homages to other artists. Joseph Beuys, Marcel Duchamp and Gertrude Stein are all subject to a tribute from the versatile and talented artist.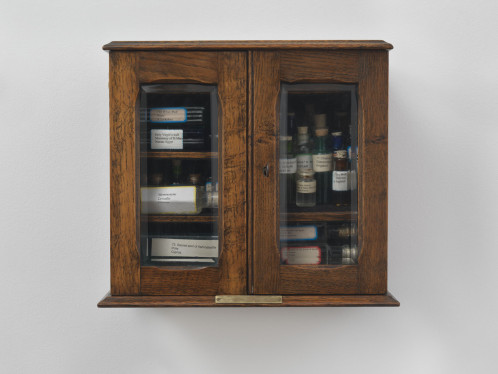 Susan Hiller, Fortes Saintes; Homage to Joseph Beuys, 1969-2013, Double Edwardian oak, felt lined cabinet with bottles of holy water , 28.6 x 32.5 x 19 cm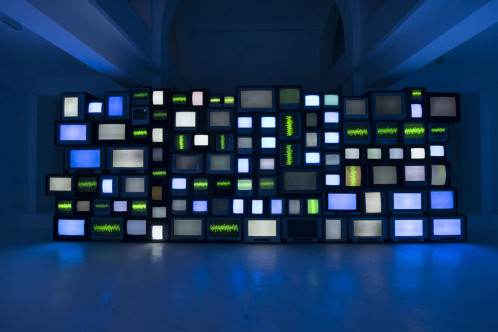 Susan Hiller, Channels, 2013, Multi-channel video installation, 106 television sets, 9 media players, 7 dvd players, signal splitters.
November 13 – January 9, 2016
27 & 52 Bell Street
London
NW1 5BY
UK
---