---
Frank Höhne
Berlin
To celebrate the release of his first monograph, 'The Book of Bock', Gestalten currently presents the solo exhibition Bockumenta 1 of illustrator Frank Höhne.
Frank Höhne's style is idiosyncratic, sometimes childishly naïve. He works quickly, intuitively, spontaneously, and analog; he likes what can happen and go awry on paper. From a single line emerges an arrow, and then somehow – after corrections, painting over, and collage – emerges a picture. He is inspired by the things that make him human. As Höhne puts it, "a colonoscopy gives me eight times more input than a visit to a museum for applied something or other." He often makes use of topics from his own life, such as his smoking habit, which he depicts in "Willße mippm Rauchen aufhörn – ein Buch für Nachahmer" (Wanna quit smoking – a book for imitators) one of his most impressive illustrations and also his thesis project.
The exhibition Bockumenta 1 showcases a broad range of Frank Höhne's original artworks featured 'The Book of Bock', including drawings, paintings, and his crocheted puppets as well as a new body of work he has created exclusively for the exhibition with heaps of paper and cardboard that he had at his disposal.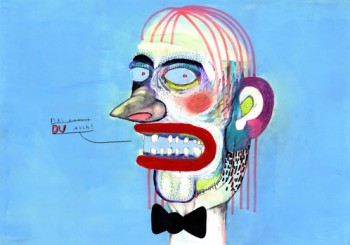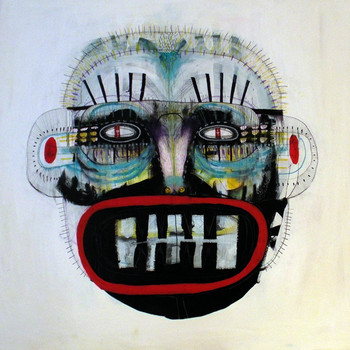 August 9th – September 16th, 2012
Sophienstraße 21
10178 Berlin
Germany
---