---
John Wesley
Los Angeles
John Wesley's, who is by the way the ex-husband of our former interviewee Jo Baer, currently presents his exhibition Objects and Paintings. It includes paintings and sculptures from several periods in his career; all of them point to the "eccentric precision," as Flavin described it, that has made him one of the most indispensible American artists of the post-war period. Over the course of his half-century career, Wesley has created an amalgamation of minimalist, surrealist, and pop vocabularies that taps into the cultural unconscious. His formal universe, which is predicated on patterning, seriality, and a particularly deliberate use of line and color, brings together references and images of all kinds.
As such, the rarely seen sculptures on view in the exhibition shed light on the paintings for which Wesley is best known. Essentially paintings in their own right, they provided the artist with the opportunity to apply his imagery to readymade objects. In 'Bird Lovers' (1973), two of Wesley's iconic pink females bow toward one another in perfect compositional symmetry while a pink bird hovers atop the blue expanse of a motorcycle helmet. The nude figures suggest a complex attitude toward eroticism: sulky, submissive, and titillating but also wild and free, tied to the moment's easy rider counterculture.
Altogether, the paintings on view, made during the late 1990s and early 2000s, demonstrate the fluidity with which Wesley is able to address a variety of subjects and moods. 'Woman on Top', from 1996, is an erotic picture whose strength of line and composition make it feel like a landscape of flesh; despite its flatness and monochromatic background, it boasts a complex series of negative spaces and a surprisingly layered sense of perspective.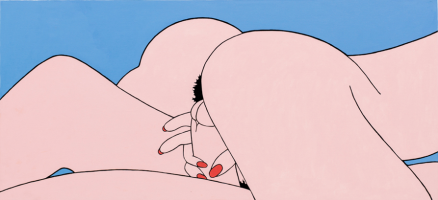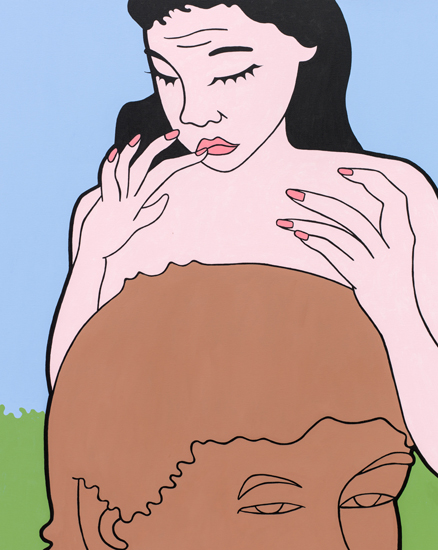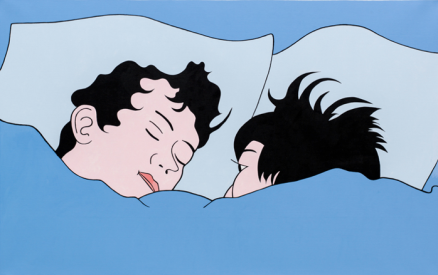 May 18 – July 6, 2013
3143 S. La Cienega Blvd. Unit A
Los Angeles, CA 90016
USA
---