---
Gilbert & George
Coming from similarly poor backgrounds that neither felt they fit into, Gilbert Proesch and George Passmore felt instant kinship when they met at St. Martins School of Art in London (now Central Saint Martins) in 1967. Since then, the pair has been inseparable – in both their private and artistic lives.
Gilbert and George, as they are famously known, put themselves into their work – literally. They describe themselves as "living sculptures." Both reject the perception of art as elitist, so much so that in 2007, they offered one of their works as a free file download from the Internet.  "It was very funny because we started the project when we were in London and flew to New York that same evening, which is a seven-hour time difference," they recall. "When we arrived, the maid who was doing our beds in the hotel already had it to get it signed. It was extraordinary."
We met the artistic duo ahead of their solo exhibition currently showing at the Museum Küppersmühle in Duisburg, Germany. We discussed their early days, their sartorial preferences, and their peccadilloes. As they say: "It is not good to be weird, because all the silly artists are weird. It is not good to be normal because everybody is normal. But to be normal and weird is a very great secret in the mind."
It's an attitude that has won Gilbert & George all manner of fans while inspiring other artists including the Pet Shop Boys, David Bowie and Kraftwerk.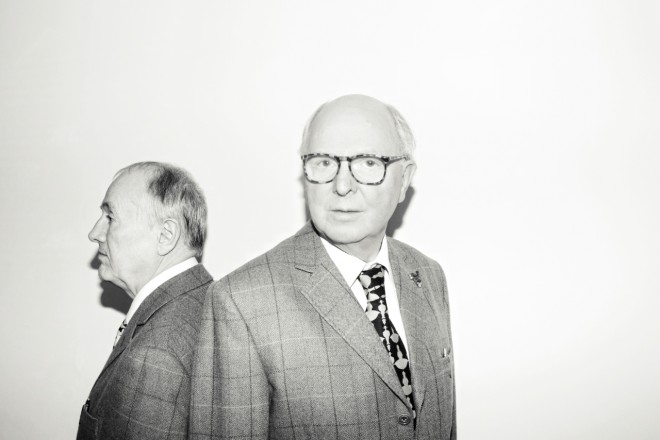 Read the full interview in the printed issue of Wertical.
Release: 2014.
Reserve an issue by sending an email to: contact@wertical.com.
---