---
How & Nosm
New York City
From today on, Jonathan LeVine Gallery presents Late Confessions, a series of works and installation by New York-based identical twin artists How & Nosm, in what will be their debut solo exhibition in New York.
How & Nosm's aesthetic is characterized by meticulously detailed line work rendered in their signature black, white and red color pallet. The artists mix highly stylized figures in contrasting scale with intricate, graphic, geometric patterns. Their complex narratives are complemented by site-specific installations that draw the viewer into surreal environments reflecting those portrayed on their canvases.
The imagery in Late Confessions relates to the German twins' unique personal history and evolution. Raised in San Sebastian, Spain in the years following the Franco dictatorship — a time of political turmoil in which military tanks, tear gas and rubber bullets were common—their formative years were marked by chaos and emotional instability. Adding to this onerous background, the burdens of growing up in a household of alcoholism and poverty led the pair to develop a drive and determination that continues to fuel their work.
Reflecting on their shared past, How & Nosm paint dramatic, autobiographical works, rich in symbolism and an unusual combination of cultural references. Their densely layered compositions are reminiscent of Picasso's Guernica, highlighting themes of war, desperation, pain and survival: blades and broken bottles pierce figures, dripping stark red streams of blood. Birds are recurring subjects, flying high to prevail triumphant and transcend labyrinths of dizzying disorder.
Another common characteristic in the work of How & Nosm is their use of duality, an ongoing metaphor for their biological bond as twins, and the nature of their work as creative collaborators. Splitting faces in half, dividing landscapes into distinct symmetrical components, even their black and white color values are all vehicles in which the artists use sharp contrasts to create dichotomy. These separations push the tension that exists between balancing intrinsic positives and negatives.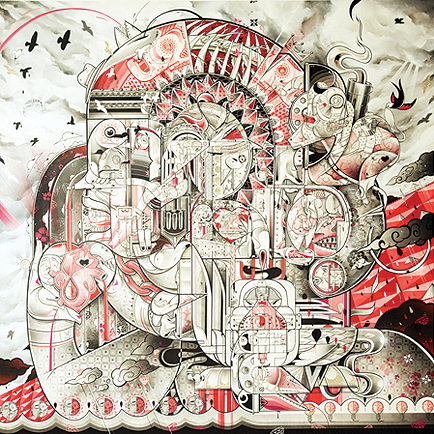 February 1 – February 23, 2013
557 West 23rd Street
New York, NY 10011
USA
---